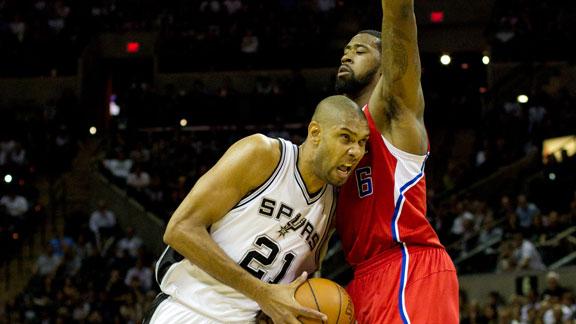 NEXT VIDEO
The San Antonio Spurs are 5-0 in the playoffs entering Thursday's Game 2 against the Los Angeles Clippers (ESPN, 9:30 p.m. ET). Here are five key questions about a team looking for its fifth NBA title since 1999:
1. Fact or Fiction: The Spurs are the best team in the NBA.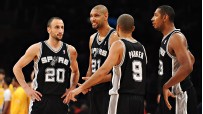 Henry Abbott, ESPN.com: Fact. John Hollinger called it back when Manu Ginobili was hurt: Don't sleep on the Spurs, he said. Now that the playoffs are in full swing, they're the one team you can sleep on. By that I mean, if you fall asleep watching TV, you wouldn't wonder about the outcome. The Spurs have been so strong that it appears only the Thunder or Heat at full strength are impediments to another title.
Kevin Arnovitz, ESPN.com: Fact. What are the defining features of a "best team"? Start with the NBA's most efficient offense. Stack that offense with a core group of stars who have mastered it together over a sustained period of success. Staff them with the league's most creative coach and professional role players whom that coach can seamlessly plug into his refined system. Then give them a very respectable defense that can compensate for a lack of athleticism with diligence and trust.
Israel Gutierrez, ESPN.com: Fiction. They might have the best offensive balance and the deepest team in the league, but I'd still lean toward the teams with potentially dominant defenses and transcendent superstars. The Thunder and a healthy Heat team are still better than the Spurs.
Marc Stein, ESPN.com: Fact. Given the groove they're in these days? Who else could you possibly nominate? The Thunder are also undefeated in the playoffs, which is an undeniable achievement given the teams they've had to deal with, but look at the numbers over the last 50 games. Fifty! The Spurs are rollin'.
Brian Windhorst, ESPN.com: Fact. This is obviously a roving designation until the Finals are over. But the Spurs haven't lost a game in more than a month. They have played well on little rest, played well on a lot of rest, won by scoring 124 points, won by scoring 87 points, won by playing very big and won by playing small. This is some darn impressive-looking squad right now.
---
2. Fact or Fiction: Tim Duncan's prowess at age 36 is a surprise.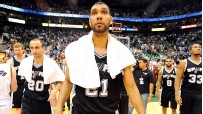 Abbott: Fiction. Far from magic, this seems like the result of an incredibly rational process. The Spurs are more than a decade into figuring out which therapies and practices work for him, and they do those things. He has kept his weight down, which I suspect would benefit many players. And, importantly, Gregg Popovich has long managed his minutes. It's a smart long-term approach that is too rare.
Arnovitz: Fiction. One of Duncan's finest characteristics as a player is keen self-awareness. He's always understood his limitations (which might be one reason some fans haven't been drawn to him), and that's one feature that comes in handy as a player grows older. Popovich has been smart about rationing Duncan's minutes, and the Spurs are better than ever at getting Duncan the ball where he can anchor the offense.
Gutierrez: Fact. Given the drop in his numbers over the past three seasons, absolutely. Factor in that it was a compressed season, and it's even more surprising he held up this well. Yes, he got spot rest, but Duncan played only four fewer games than LeBron James this season and still looks like he's shaved two years off his career.
Stein: Fact. Because of where he was at age 35. But he took advantage of the extended prep period afforded by the lockout, lost all kinds of weight to ease the burden on his knees and turned back the clock. Of course, as I'm typing all this, it occurs to me that it really shouldn't have been a surprise, because we know that the Spurs always make the most of a work-stoppage season.
Windhorst: Fact. The play of graybeards Duncan and Kevin Garnett in this type of season is simply amazing. It should serve as a reminder that we're watching two of the greatest big men in history and they're both hell-bent on another title. It's also an achievement for the Spurs and their discipline and long-term planning. They've been engaged in a project to maximize Duncan's career for four or so years now, and it's working.
---
3. Rank the three people most responsible for the Spurs' success.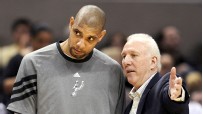 Abbott: (1) Duncan. There's a certain irony here. He might be the team's third-best player this season. But the whole team wouldn't exist without his uncommon play and leadership over the past decade and a half. (2) Popovich. On almost every issue this team is as smart as it comes, and he is the reason. (3) Spurs owner Peter Holt. This is a little like the strong economy under Bill Clinton. People will say he didn't do much to create it. And maybe that's true. But he was smart enough not to meddle. (Crazy: Tony Parker was an MVP candidate this season and isn't on my list.)
Arnovitz: (1) Popovich. Systematic stability is so important to a basketball team's success — something we saw last season and many others before. (2) R.C. Buford. Building an NBA roster is as much art as science, and the GM consistently produces beautiful work. (3) Duncan. You could insert Parker and Ginobili here, but Duncan's presence in San Antonio has made the whole enterprise work since the day he was drafted.
Gutierrez: Looking at this season alone: (1) Parker. There have been discussions for a few years about possibly moving on from Parker. He has made the Spurs' front office look smart for keeping him. (2) Popovich. Best coach in the league, until Phil Jackson comes back. (3) Buford. Finished second for executive of the year but would've looked just fine in first.
Stein: (1) Popovich. (2) Duncan. (3) Buford. Parker has to be in the top three if we're talking only about this season, but the three I chose were ranked in terms of their roles in establishing and maintaining San Antonio's one-of-a-kind team culture. And Pop connecting with Duncan right off the bat — then keeping it going for 15 years — is where it all starts. (As long as you first acknowledge, as Pop and R.C. often do, how downright lucky the Spurs were to be in two lotteries over the course of a decade and come away with David Robinson and Timmy.)
Windhorst: (1) Duncan. The torch has gone from Kareem to Shaq to Duncan here as the greatest big man in the game. (2) Popovich. In a career stuffed with fantastic coaching and personnel decisions, he may be in the midst of his greatest job with how he prepped his club in this unusual season and added pieces along the way. (3) Parker. He's revolutionized his game a bit this season, taking on a different and more aggressive role. This is not common for a guy in his 11th season to do.
---
4. A fifth Spurs title in 14 seasons would be ________________.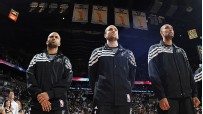 Abbott: Very hard on LeBron. Also on Dwyane Wade, Kobe Bryant, Garnett and all those other players who, because of age or reputation, need this one.
Arnovitz: Further validation.
Gutierrez: The gold standard for small-market teams everywhere.
Stein: Embarrassing for those of us who not only wrote 'em off for the umpteenth time coming into this season but also continue to ignore them. Still can't understand why there's so little chatter out there about Duncan chasing his fifth championship. LeBron's first ring or Kobe's sixth ring is all we talk about. When Duncan's drive for No. 5 is the most likely to happen.
Windhorst: Crowning. They won four titles and narrowly lost out on a fifth, but because three of them were between more high-profile Lakers runs, they have not properly earned the attention for what they've accomplished. If they add that fifth one, Duncan, Ginobili and Parker need to be elevated to the same conversations as Magic, Kareem and Worthy, Jordan and Pippen, and Russell, Cousy and Heinsohn.
---
5. Fact or Fiction: The Spurs will win the 2012 NBA title.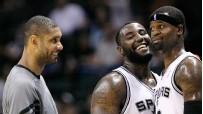 Abbott: Fact. Of course, I have no idea. Anything can happen. But if I had to pick the most likely team, it's a cinch to pick the team that has managed minutes well, gets good shots on almost every possession and has yet to break a sweat.
Arnovitz: Fact, with an acknowledgment that a healthy Miami squad would be a very tough out and certainly would be a superior defensive team. But so long as the Heat lack the balance Chris Bosh gives them, the Spurs have that springtime look of a veteran team poised for a title run.
Gutierrez: Fiction. Still sticking by the tried and true idea that an offense-first team rarely wins it all. The Spurs were 17th in the regular season in field goal percentage allowed and are dead last among the remaining teams in that category. Yes, they can outscore you, but the Spurs as a defensive team is a thing of the past.
Stein: Fact. Closest thing we've got to a title favorite right now. Deepest, healthiest and, uh, grooviest team on the map.
Windhorst: Fact. They're my favorite at the moment. Right now they remind me a bit of the Argentine national team from the 2002-06 era, a brilliantly coached team with players who knew one another so well, knew and executed their roles perfectly and consistently, had their systems so well-oiled they could perform them under any circumstance, and were the definition of a great "team." That's what the Spurs are doing right now.

ESPN.com