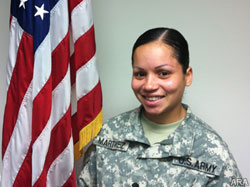 When the nation celebrates a cultural legacy, as we do when we observe National Hispanic Heritage Month, we are often reminded of our different backgrounds. But in the U.S. Army Reserve, this month also helps us to realize that as a diverse force, we all strive toward a common goal.
Ask Spc. Susette Martinez-Crespo, of Mayaguez, Puerto Rico.
"What convinced me to join the U.S. Army Reserve was the honor, respect and loyalty that I feel toward my country," she says. "Although I was born in Puerto Rico and we are not a state, I am an American citizen and the USA is my country. I have to do my part to defend it."
Martinez-Crespo joined the Army Reserve after scoring well on the Armed Services Vocational Aptitude Battery in high school – and she hasn't looked back.
"The U.S. Army Reserve offered me wonderful opportunities for education and a professional career," she says. "As a college student, the Reserve helped me pursue a civilian career in biology by paying for my courses. The Reserve also trained me as a human resources specialist, which has helped me in my civilian job as a legal clerk in a law office."
As the U.S. Army Reserve observes National Hispanic Heritage Month, we celebrate the accomplishments of Soldiers like Martinez-Crespo, as well as the contributions of countless other Hispanic troops throughout U.S. history:
* During the Revolutionary War, Hispanic Americans – along with Hispanic troops from Spain, Mexico and the Caribbean region – helped vanquish British forces along the Gulf of Mexico.
* Hispanic soldiers from along the Gulf Coast came to the aid of the nation during the War of 1812, helping Gen. Andrew Jackson fend off the British once again, this time during the pivotal Battle of New Orleans.
* As the nation continued to expand, thousands of Hispanics took up arms alongside their fellow Texans during the War for Texas Independence and the Mexican War.
* Cpl. Joseph H. DeCastro served the Union with valor at the Battle of Gettysburg, capturing the flag of the 19th Virginia Regiment. For this act of bravery, he became the first Hispanic American to earn the Medal of Honor.
* Several thousand Hispanic soldiers fought as members of the Rough Riders and other units during the Spanish-American War.
* The number of Hispanic soldiers grew with our nation: 200,000 served in World War I, and 500,000 in World War II.
* An equally significant share of Hispanic soldiers have fought with distinction in Korea, Vietnam, the Gulf, Iraq and Afghanistan.
Building on this distinguished heritage, today's Hispanic soldiers continue to serve with distinction, and to strengthen the ranks of the Army Reserve with a rich mix of backgrounds, skills and ideals – key ingredients in maintaining today's ready, adaptable Army Reserve.
Representing 12 percent of the total Army Reserve, Hispanic soldiers in 2010 comprised 14 percent of our enlisted Reserve, 7 percent of Reserve officers and 9 percent of Reserve warrant officers – nearly 25,000 troops in all.
And their numbers have been growing dramatically over the last quarter-century.
Over a period of 20 years from 1983 to 2003, Hispanic members of Army Reserve more than doubled, rising from 10,263 to 22,265. Most have been Hispanic male reservists, but the number of female Hispanic reservists like Martinez-Crespo more than quadrupled – rising from 1,281 to 5,192.
While the number of Hispanics serving in the Army Reserve are slightly lower than their numbers in the general population, this gap is closing. The growing emphasis on education in the Hispanic community and a sustained interest among Hispanic youth in serving in the Army is making a difference, and provides a great opportunity to the Army Reserve.
To seize that opportunity, the Reserve constantly reinforces and renews our relationships with Hispanic communities and organizations across the country. Through our partnerships with civic and youth groups, we work to encourage Hispanic students to tap into the educational and career opportunities offered by the Army Reserve.
The Reserve, for example, supports the League of United Latin American Citizens by providing educational resources and leadership development training in LULAC's National Education and Service Centers.
The Army Reserve also has well-established ties with other Hispanic organizations, including Great Minds in STEM (Science, Technology, Engineering and Math), the Hispanic Heritage Foundation, and the Hispanic Association of Colleges and Universities.
Every day, these efforts help Hispanic students pursue academic careers, develop leadership capabilities and enhance their civilian career prospects – all while becoming skilled members of the Army Reserve.
Hispanic troops also play an especially critical role in ensuring our diversity – and in fulfilling the Army's broader objective to cultivate in all of its soldiers a deeper understanding of diversity, an everyday requirement in today's multicultural world.
That's because the U.S. Hispanic community is – in itself – such a diverse reservoir of cultures and talents. It includes members whose heritage as Americans predates the establishment of the United States, as well as recent arrivals from every Spanish-speaking country around the globe.
We recognize Hispanic heritage as a key part of the heritage of the Army Reserve. And through our ongoing involvement with the Hispanic community, we will continue to help it remain a mutual legacy shared by all Americans.
We'll do that with the help of soldiers like Martinez-Crespo, who serves with both boots planted firmly on the ground.
"When I am in my uniform I don't see myself as a Hispanic soldier," she says. "I see myself as a soldier who will defend my country. As we say in the Army: 'One team, one fight.'"