Updated: October 18, 2012, 2:19 PM ET
Associated Press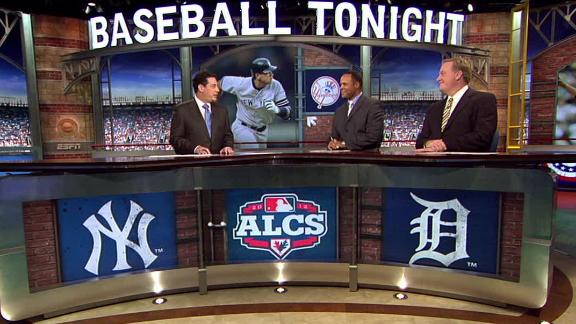 A-Rod's Future With Yankees
NEXT VIDEO
DETROIT — Alex Rodriguez and Curtis Granderson were still out of New York's starting lineup for Game 4 of the AL Championship Series on Thursday, a day after the game was postponed by rain.
The slumping Yankees trailed 3-0 in the ALCS against Detroit. Manager Joe Girardi has juggled his lineup throughout the postseason, trying to find the right combination.
The Yankees kept their lineup the same as it would have been Wednesday — with Rodriguez on the bench for the third time in nine postseason games. A-Rod is 3 for 23 with no RBIs in these playoffs.
Granderson joined him on the bench after another hitless night in Game 3 dropped the center fielder to 3 for 29 with 15 strikeouts. Granderson hit 43 homers with 106 RBIs this season.
Nick Swisher, who was benched in Game 3, returned to the lineup in right field. Eric Chavez started at third base in place of Rodriguez. Brett Gardner started in Granderson's normal spot.
Rodriguez has looked particularly overmatched against right-handers, going 0 for 18 with 12 strikeouts in the postseason. Detroit's entire playoff rotation is right-handed, including Game 4 starter Max Scherzer.
New York ace CC Sabathia was slated to take the mound Thursday against Scherzer.
In Game 3, Girardi let Raul Ibanez hit against left-hander Phil Coke in the ninth inning, and Ibanez ended the game by striking out. The switch-hitting Swisher — not Rodriguez — was in the on-deck circle preparing to pinch hit.
"I was ready to hit, and I was just waiting for my number to be called," Rodriguez said Wednesday. "Any time I'm in any lineup, I think that lineup is better and has a better chance to win. … Any time I'm in the box, the game can change, and everyone knows that."
Copyright 2012 by The Associated Press

ESPN.com