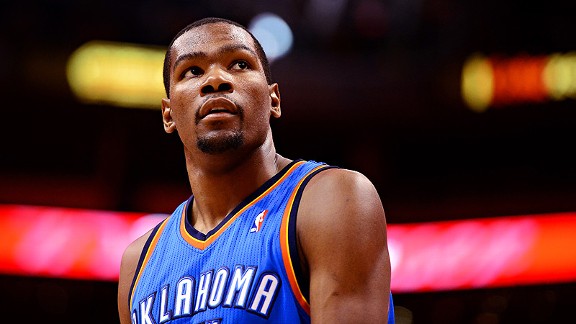 Mark J. Rebilas/US PresswireAt 23, Kevin Durant is already one of the best players in the league. Just how good can he be?
The one thing Kevin Durant lacks is a means of defining himself, of setting the parameters for which he should be described. It's always a generic "better." He wants to ascend to huge heights, but he's never named a specific mountain he desires to scale.
When Kobe Bryant entered the NBA, it was clear that Michael Jordan was both his template and target. Maybe that's why Kobe's the closest thing to Jordan. Since Kobe is so good at specifics, we should let him describe what the ultimate manifestation of Durant could be.
"A 6-11 me," Bryant said.
Now there's a terrifying prospect. Someone whose eyes are trained on hell-bent destruction of the league, from the vantage point of someone 5 inches taller than Bryant.
Nate McMillan, who has coached both Durant and Bryant with the world championship and Olympic teams, finds them similar because "you can't picture them doing anything else. They were created for this game.
"Spending time with Kobe and Durant, you know that basketball is 90 percent of what they think about all day long."
But Durant is so much nicer than Kobe. A lot nicer on the court than Chris Paul, too. While Durant runs over to his mother before every home game, Paul has made it clear he would run over his mother to win a game. Does Durant have that inner fire, that nasty edge, that … that …
"That dog in him?" Bryant asked. "He's got it in him."
For proof, Bryant cited a 14-point burst in the final 3½ minutes of a playoff game against Denver last year and game-winning shots against the Dallas Mavericks this year, in both the regular season and the playoffs. Since Bryant said those words, in the midst of the second round, Durant went on to hit a game winner against the Lakers, drop 16 points in a fourth-quarter barrage against the Spurs and pour in 17 points in the fourth quarter of Game 1 of the NBA Finals.
He's getting it done. But while we, the sports-watching society, fixates on results (ask LeBron), Durant chooses to focus on the method.
"I've really been looking at the mental aspect of the game, how [Bryant] approaches it, watching film, studying opponents, just making sure he's vocal every time down," Durant said. "Posting up, the footwork that he uses posting up and how patient he is on the offensive end. I'm learning, every single day. I know that I work hard. It's going to take me some time, but I know that I'll get there."
And that's one of the few times you'll ever get a sense of what Durant considers "there." Even though he didn't say it explicitly, you have to assume he was talking about Bryant's level, since he was asked to reply to Bryant's description of him.
In many ways, Durant already has moved past Bryant. This season, he beat Kobe out by a tenth of a point to claim his third straight scoring title, one more than Bryant has in his career. He finished second in the Most Valuable Player voting, two spots ahead of Kobe. And he knocked Kobe out of the playoffs.
"

That dog in him? He's got it in him.

" — Kobe Bryant
Durant guarded Kobe in key stretches, such as the fourth quarters in Games 2 and 4, when the Thunder made late rallies to win it with Durant hitting big shots and Kobe coming up empty against the OKC small forward's long-armed defense. He didn't shy from the challenge. It was fascinating to watch him try to get the edge. He knocked Bryant to the ground with a hard foul, and while the instincts of the son Wanda Pratt raised told him to help Bryant get back up, he listened to the playoff dictum that told him he couldn't. The inner conversation played out on his face.
Late in Game 5, Durant glanced at the sideline. He saw Bryant get up and head to the scorer's table to check in for one last shot at taking down the Thunder and salvaging the Lakers' season. Durant's eyes followed Bryant down the sideline, but his expression hardly changed. No fear, no apprehension, just a look that said, "So be it." If Durant wanted to advance, he knew he had to slay Bryant.
Not only did he beat Kobe, whom Durant called "probably the greatest player of my time," he also vanquished reigning champion Dirk Nowitzki and bested four-time champ and two-time MVP Tim Duncan. If he can get by the Miami Heat and LeBron James — the only player to finish ahead of him in the MVP voting this year — and win a championship, that will account for all the immediate tasks before him. Once he conquers the contemporaries, he would have no choice but to aim at the legends.
"By the time he's done, if he can stay healthy and have good fortune in that regard, he'll be considered one of the all-time greats," said Derek Fisher, Durant's newest teammate but one of the league's oldest and wisest players. "His ability to play the game at an efficient level is impressive. He has all the facets."
That includes the right situation, a strong set of teammates to help him win the championship rings he needs to be allowed a seat at the table. That includes Russell Westbrook (in whom Bryant sees similar canine qualities as Durant), James Harden and Serge Ibaka. So if he gets a championship or two, then what?
[+] Enlarge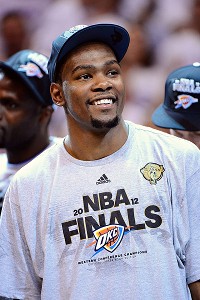 Ronald Martinez/Getty ImagesAfter finishing second in MVP voting, Durant has led the Thunder to their first Finals appearance.
"He just always talks about getting better," said Randy Williams, a close friend since Durant's lone college season at Texas. "Working out, getting better and just putting time into the game."
And the accolades? His place in history?
"He never talks about it," Williams said. "He just feels like, if he puts in the work, that will come. It's just all about getting in the gym and working hard.
"They might mention him in a name with, like, Kobe and them, but he always feels like, 'I'm not at that level.' I'm still working on my game. There's some more I can do.'"
Durant is relentlessly self-critical. You can see it when he looks down and slaps his hands together after a bad play. You can hear it when he describes his rookie season, in which he scored 20 points per game but shot only 43 percent — including 29 percent on 3-pointers.
"I pride myself as an efficient player," Durant said. "I wasn't efficient that year. I didn't take efficient shots. I wasn't locked in as a player. I was just going through the motions sometimes. That next year I just came back more focused and preparing myself every single game to get better, and film sessions and shootarounds to get locked in. It helped. Ever since then I've been shooting the ball a little better and taking good shots."
He has made at least 48 percent of his shots in three of the past four seasons while making at least a third of his 3-pointers every season. He has become a better passer and better defender as well.
But as he climbs the rankings of the game's best players, he's so low-key around the house that it's easy for those close to him to forget how good he is.
"When you see him on the court, you're amazed … like, gol-lee, you're doing all this?" Williams said.
The on-the-court version of Durant has been astounding since he was a kid. Thunder assistant general manager Troy Weaver's hometown is near where Durant grew up in Maryland, and he first saw Durant play when Durant was about 10 years old.
"He had focus in his eyes," Weaver said. "You could tell he wanted to be good and he loved the game. Even as a young kid. He just had a focus on the court. He wasn't easily distracted. You could tell the guy enjoyed being on the floor.
"A lot of kids toyed with different things. He found his first love early. That's the way I would describe it."
The story going around is that Durant was so smitten by the relationship, so locked in on playing basketball, that he never even bothered to go to the prom. Durant amends it: He did go to a prom; it just wasn't his school's prom.
As long as Weaver has known Durant, he still can't pin down a specific goal that Durant has set.
"I think he's thought of having a few targets," Weaver said.

There is an objective, fixed number that's out there for Durant: Kareem Abdul-Jabbar's record of 38,387 career points.
Sometimes the target can change within a matter of minutes. Before I interviewed him for an edition of "NBA Coast to Coast" in January, I asked Durant to give a duo that he thought he and Westbrook could emulate. He told me Magic Johnson and James Worthy. But when we were on camera and I asked it again, he said Tony Parker and Tim Duncan.
"I won't say I'm as good as Tim Duncan and Russ is as good as Tony Parker," Durant said that night, "but just that chemistry they had, and just their personalities fit us, I think pretty well."
Later, Durant was asked by reporters about what aspects of the Duncan-Parker duo he hoped to emulate and he said, "Longevity, wins, championships."
It was the word "longevity" that caught Thunder general manager Sam Presti's attention. For as many conversations as he's had with Durant, he found that comment to a third party to be very revealing. Presti thought it was unusual for such a young player to be thinking that far down the road, to not be so caught up in the moment that he wasn't prepared for the future. But it's a window into what Durant wants from this game, how he desires to be viewed. It shows in the little things, such as the ice bags on his knees after morning shootarounds, the type of treatment normally seen by 10-year veterans.
"The beauty about him is, he understands process," Weaver said. "Getting better every day."
"He never has a bad day of practice because he just wants to shut it down," said Thunder coach Scott Brooks. "He gives us effort every day, and our guys see that. We all follow."
How far will Durant lead them? Where does he want to go?
"Man, I don't know where this guy will end up as a player," Weaver said. "I do believe he's a generational player. It's hard to find that blend of commitment, work ethic and talent. It's rare to find that. The guy is 23. Let's sit down and talk again when he's 27. Who knows where this guy will be? I don't like in sports how we all want to pigeonhole guys. The great ones, you can't do that."
At the highest levels, the subjectivity overwhelms. Do you value stats or winning, individual greatness or team play? How can you truly measure that coveted quality of making teammates better?
There is an objective, fixed number that's out there for Durant: Kareem Abdul-Jabbar's record of 38,387 career points.
Through five seasons, Durant has scored 9,978 points in 380 games. In Abdul-Jabbar's fifth season he had scored 12,172 points in 402 games. The 66-game, lockout-reduced schedule obviously set Durant back, but playing a full 82-game schedule next year could allow him to regain ground; Kareem played only 65 games in his sixth season because of injuries.
Durant's biggest advantage is entering the league at age 19 after spending just his freshman year at Texas; Kareem was 22 his rookie season after staying at UCLA through his senior season, as all college players did in the 1960s. Durant doesn't have to play until he's 41, as Kareem did. If Durant plays at least 80 games a year and averages 26 points per game for the next 14 seasons — through age 37 — he can hit 39,000 points.
[+] Enlarge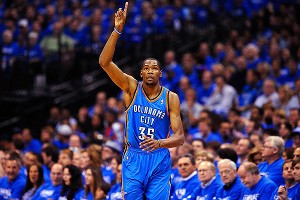 Jerome Miron/US PresswireIf Durant captures a title in just his fifth season, the sky would be the limit for the rest of his NBA career.
I ask him about passing Abdul-Jabbar — or Karl Malone or Michael Jordan — on the scoring list, a specific objective, and Durant pivots away.
"Coming into the league, all I really wanted to do was become a player that everybody's going to remember once I'm done," Durant said. "I wish I could have had a better start to my rookie season. But after that I've learned a lot, I've grown a lot and I think every year I've been in this league I've grown as a player and hopefully I'll continue to do the same. My goal, of course, by the time I'm done playing is to be a Hall of Famer. So hopefully I'll do that. We'll see what happens."
Even "Hall of Famer" sounds vague. Until they adopt Bill Simmons' Pyramid concept, that term can apply equally to anyone from Alex English to Jerry West.
Fisher would argue that Durant is actually better because of his hazy destination. Durant is the classic example of the concept of underselling and overperforming. He has yet to disappoint us as an NBA player, has never made us feel that he was anywhere other than the exact spot he was supposed to be on his journey, in part because he's never turned to us and said, "Watch this."
"What makes him special is that he doesn't even know what his ceiling is," Fisher said. "So he's just playing. His instincts and his natural abilities just take over. He's not playing with any baggage or any extra stuff or 'I have to prove this.' He's still creating what his legacy will be. So it's just: 'Let me go out here and do what I do.'"
He'll leave the legacy-shaping to the others. And for that, we'll turn to Nike, the shoe company that has been so influential in shaping the sports narrative for the past three decades. It was Nike that turned Michael into "Air Jordan," that helped us define players as much by what they have on their feet as what they do on the court. Durant is in the process of being "elevated," as Nike sports marketing executive Chuck Terrell put it — being positioned to take over when Kobe and LeBron are no longer the top horses in the stable.
And while Durant doesn't designate who he'll be, if his coaches and teammates and team executives can't provide an answer, the Nike marketer has no problem distilling his vision of Durant into two words: "That guy."

ESPN.com