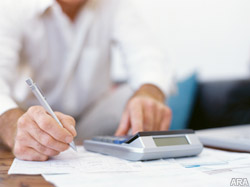 Job prospects in many industries have dwindled as the country still struggles with the lingering effects of the recession. But while the economy has undermined opportunity in many industries, it's also spurred growth in others. Job opportunities for accountants and auditors are expected to grow 22 percent between 2008 and 2018 at the national level, according to the Bureau of Labor Statistics (BLS).



New emphasis on accountability, transparency and financial reporting is expected to spur the increased demand, the BLS says in the 2010-2011 edition of its Occupational Outlook Handbook, which can be found online at www.bls.gov/oco. The handbook notes that most accounting jobs require a bachelor of accounting degree.



While the BLS's statistics and projections are national figures and estimates, and employment conditions can be different in your area, the bureau also notes that the growth rate in the accounting industry is growing "much faster" than national averages. The expansion in the industry could benefit both those already working in accounting and those looking to enter it seeking stable career opportunities.



There are four major fields of accounting – public accounting, management accounting, government accounting and internal auditing – according to the BLS. Within those fields, there are many job functions, including tax preparation, financial analysis, investment planning and public records keeping. Job duties vary widely, as do the job market and career opportunities, depending on where in the country you're looking for a job.



Fortunately, those seeking a bachelor's or master of accounting degree have more educational options than ever. Schools like American InterContinental University (AIU) now offer both brick-and-mortar programs and online degree programs in multiple accounting disciplines.



AIU's master's degree program is designed to help students prepare for the AICPA licensure exam. While completing a degree program is never a guarantee of employment, program graduates will be eligible to take or pass the exam and/or become licensed as a CPA in their state. Keep in mind, in most states you'll need to complete 150 semester hours of college coursework, apply to the State Board of Accountancy, pass the licensing exam and meet residency, experience and other requirements to be licensed as a CPA. Requirements for licensing vary from state to state, so check your state's requirements before enrolling in any degree program.



Attending a campus (AIU has facilities in Atlanta, Houston, South Florida and London) offers students a traditional college experience. Online programs, however, now can also offer a high level of student support, an interactive experience and 24/7 technical support. In addition to the convenience of online learning, AIU students can receive the support of an admissions adviser, student adviser and career services adviser.



Online programs can provide greater flexibility for those already working in the industry. Busy professionals can take courses even with their demanding schedules. Online learning can also allow those looking to enter the field to earn a degree at an accelerated pace and start pursuing opportunities in the industry more quickly than they might when attending a brick-and-mortar college.



Virtual classrooms, a virtual commons (where students meet and interact online much as they would in a campus setting), podcasts and mobile apps can provide online students with greater flexibility and a comprehensive educational experience.



Although earning a higher degree cannot guarantee you'll get a job, the BLS notes that higher education can give professionals an edge in the accounting field.



While not all programs are available to residents of all states, to learn more about accounting degree programs, visit www.aiuniv.edu. You can find disclosures on graduation rates, student financial obligations and more at www.aiuniv.edu/disclosures. AIU cannot guarantee employment or salary.