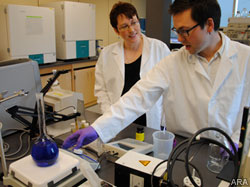 The medical field makes great advances every day, but many persistent problems have yet to be solved. Cancer is among the most challenging issues that medical researchers face, but the resolve to save lives and find a solution is stronger than ever.



The driving force behind that resolve is the fact that cancer is still widespread and often fatal. Ovarian cancer, for instance, affects an estimated 21,000 women and causes more than 14,000 deaths every year in the U.S., and as many as 125,000 deaths around the world. That makes it the most deadly cancer of the female reproductive system and the fifth-leading cause of cancer-related death in American women.



One of the most challenging aspects of ovarian cancer is that it is most commonly diagnosed when it is already in advanced stages. Few symptoms occur at early stages, and combined with a lack of effective screening tests, it means that nascent ovarian cancer is not noticed. Surgery and chemotherapy can be used to treat the disease once it's been diagnosed, but there is a high risk of women developing new, fatal tumors after the initial treatment.



While the effort to find a cure or a preventive for ovarian and other cancers is still ongoing, glimmers of hope occasionally emerge in the form of new advances in treatment, experimental tests and research breakthroughs. Because the incidence and mortality rates for ovarian cancer have remained steady over the last decade, new possibilities in treating it are noteworthy.



For those who have been diagnosed with the disease, every potential solution is worth exploring. While traditional therapies are a certainty, trying new and experimental procedures or treatments is often viewed as another chance at beating the disease.



Those experimental treatments are often carried out in clinical trials that put emerging therapies to the test, under the scrutiny of the U.S. Food and Drug Administration (FDA). For those who have had surgery and chemotherapy to treat ovarian cancer, upcoming trials in the U.S. will be conducted for a vaccine called DPX-Survivac. Potential participants are screened for their eligibility to participate in the trials, which will test the safety and effectiveness of the vaccine, and its ability to bring about an immune response.



While not all cancer diagnoses are fatal, the number of people afflicted with the disease demands that new solutions continue to be explored. For those who have been diagnosed, the opportunity to participate in clinical trials offers yet another opportunity to make headway in their battle against the disease. For more information about these clinical trials visit www.clinicaltrials.gov.