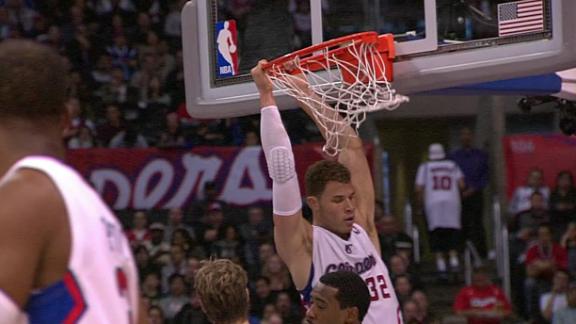 Clippers Rally, Knock Off Mavs
Clippers Rally, Knock Off Mavs
VIDEO PLAYLIST
LOS ANGELES — Chris Paul had 19 points and 16 assists, and the Los Angeles Clippers held on to beat the Dallas Mavericks 99-93 on Wednesday night, extending their franchise-record home winning streak to 13 games.
Matt Barnes added 19 points off the bench, and Blake Griffin had 15 points and 13 rebounds for the Clippers (29-8), who took sole possession of the NBA's best record from Oklahoma City with their third straight win overall.
Darren Collison scored 22 points for Dallas. O.J. Mayo added 17 and Dirk Nowitzki had 15. At 13-23, the Mavs fell 10 games below .500 for the first time since March 30, 2000, two months after Mark Cuban bought the team. They've lost four in a row overall and three straight on the road, where they are 5-16.
The Clippers led the entire first half, fell behind by 10 points in third quarter and then regained the lead for the first time in the fourth on Paul's steal and layup that made it 82-80.
They took the lead for good on Barnes' 3-pointer that keyed an 8-0 run. Los Angeles forced former Clipper Chris Kaman into two misses, while Collison airballed another shot in that stretch as the Clippers went ahead 90-83.
Nowitzki's jumper pulled Dallas to 95-93. Griffin hit a turnaround jumper to give the Clippers a four-point lead before Collison missed a 3-pointer in the right corner.
Caron Butler came up with two big offensive rebounds off consecutive misses by Griffin and Paul with 39 seconds left. After taking two timeouts, Paul missed an 18-footer with 24 seconds left and Dallas called timeout. Collison scrambled looking for a shot before he passed to Vince Carter, who missed.
Paul got fouled and made both shots for a 99-93 lead while fans chanted, "MVP!"
Los Angeles played flatly in the third, when the Mavs used a 22-8 run to take a 75-65 lead. Shawn Marion's 3-pointer early in the spurt gave Dallas its first lead of the game and snapped the Clippers' streak of leading for 10 straight quarters. The Clippers rallied at the end of the period, scoring seven in a row, punctuated by Barnes' 3-pointer that beat the buzzer to trail, 75-72.
The Clippers led the entire first half, sparked by Barnes' 11 points, including three 3-pointers. The Mavs scored seven straight points to tie the game at 50-all on Collison's hook before Paul got around Mayo to hit a running jumper at the buzzer, keeping the Clippers ahead 52-50 at the break.
Game notes
Clippers G Jamal Crawford returned after missing the past two games because of a sore left foot. … Clippers F Grant Hill did not make his expected return after missing all season with a right knee bone bruise. Coach Vinny Del Negro said Hill has not had any setbacks and would practice a couple more days before being evaluated for Saturday's game against Orlando. … The Mavs signed free-agent guard Mike James to a 10-day contract on Wednesday. The 10-year NBA veteran had played two games with the Texas Legends of the NBA D-League.
Copyright by STATS LLC and The Associated Press

ESPN.com