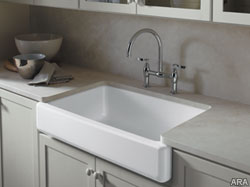 Kitchen remodel – two words that when strung together often evoke images of a gutted room, endless dust, a major investment, not to mention overdosing on takeout while the cooking space is out of commission. Such experiences may be a part of a major kitchen renovation, but smart updates can create a big impact with less money, time, and drama. Just one or two significant changes paired with smaller enhancements can give your space a fresh look.
Replace the countertop and sink
Have your dingy countertops and sink seen better days? This is an easy fix for the time- and budget-conscious. Modern countertop options abound, from timeless granite to the industrial allure of stainless steel, and durable standbys of cement or quartz.
Once you've committed to countertop replacement, shop around for a new sink. Some countertop merchants may offer you a new sink with your purchase. While freebies are appealing, ask yourself if the sink given gratis matches the vision for your space. Your sink should be in sync with your lifestyle, so keep the following points in mind:
The depth, shape and number of bowls should depend on how you work in your kitchen. If you hand wash bulky pots and pans, opt for the popular single-basin sink with deep dimensions. Multi-taskers will appreciate multiple bowls. Some newer styles offer three bowls – two standard-sized basins and a smaller third one to accommodate a disposal.
Utilitarian as the sink may be, its design is a big contributor to the kitchen's aesthetic, so weigh this factor carefully. Apron-front sinks, also known as farmhouse sinks, can evoke a period-style look with their panel design. Until recently, installation required removing the countertop and building custom cabinetry below to accommodate the new sink's dimensions. The KOHLER Whitehaven self-trimming apron-front kitchen sink makes installation much easier. It's available in two apron sizes: A conventional 9-inch apron model (requiring a custom base cabinet), and a 7-inch apron, an ideal retrofit option for homeowners wanting the farmhouse look and the roomy 9-inch-deep basin without the cabinetry replacement.
Made of durable Kohler Enameled Cast Iron, the sink is available in 16 colors, including much-loved neutrals and bold designer hues. Visit www.kohler.com to learn more.
When it comes to updating your kitchen for a fraction of the cost of a full renovation, toss out the old adage of doing "everything but the kitchen sink." Start with the sink and countertops, and you'll achieve a whole new look for an affordable cost.