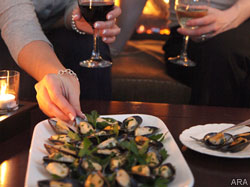 Dinner clubs have been a popular activity for many Americans for decades. And why not? Combining the best of fabulous food and good friends with whom to share it, dinner clubs (or supper clubs as they are sometimes known) provide a regular opportunity for group members to get together and enjoy delicious meals together.
Whether you're a seasoned pro or wanting to try a dinner club for the first time, there is bound to be some anxiety over what to prepare. This is where the versatility of Prince Edward Island (PEI) mussels can get your creative culinary juices flowing.
"These mussels really offer something for dinner club hosts from all skill levels," says Chef Lindsay Cameron Wilson, the official chef of the Mussel Industry Council's website DiscoverMussels.com. "Whether you're a novice wanting to do a dish that seems a bit exotic but remains easy to prepare, or a pro in the kitchen wanting to explore new flavor territory, there's a mussel recipe for you."
For the uninitiated, shellfish dishes sometimes seem daunting, but are often easier to prepare than first thought. For a simple yet impressive recipe, Chef Lindsay recommends Mussels with Greens and Blue Cheese. For a more complex recipe that is very rewarding, she suggests dinner club enthusiasts try Mediterranean Mussel Salad.
"As these recipes show, one of the great things about PEI mussels is their versatility," says Linda Duncan, executive director of the Mussel Industry Council. "The meat is plump, sweet and tender and lends itself to a variety of dishes from around the world. There's a rich flavor profile associated with mussels, and as a bonus it pairs wonderfully with many different wines – another fun element of many dinner clubs."
Many dinner clubs are themed and offer meals from a different part of the world each month. The wonderful flavors of fresh mussels are as at home in classic European dishes like mussels Provencal as they are in sweet Thai dishes, exotic Asian dishes or spicy dishes like mussel laksa from India.
The Canadian Mussel Industry Council website at www.discovermussels.com is home to a wealth of recipes to try for your next dinner club gathering or for a healthy meal at home. With recipes from the flavor capitals of the world, you'll find numerous ways to prepare these delicious and sustainable mussels from PEI.
Mussels with Greens and Blue Cheese

Number of servings: 10

Preparation time: 10 minutes

Cooking time: 10 minutes
Ingredients:

5 pounds fresh PEI mussels

2 tablespoons olive oil

7 ounces pancetta, prosciutto or bacon, diced

2 shallots, minced

1 cup white wine

Juice and zest of one lemon

7 ounces creamy blue cheese

Arugula, spinach or watercress (large)

Sea salt and pepper to taste

Crusty bread to serve
Directions:

Rinse fresh blue mussels in tap water and set aside. Discard any mussel that does not close after being rinsed. Heat oil in a large pan over medium-high heat. Add pancetta, prosciutto or bacon and cook, stirring occasionally, until crispy. Add shallot and cook, stirring, for two to three minutes more. Add white wine, lemon juice and blue cheese. Stir briefly, then add mussels. Cover and leave to steam for five to seven minutes, or until mussels are open. Discard any mussels that do not open. Toss in greens and salt and pepper to taste. Transfer to a serving platter and garnish with lemon zest. Serve with slices of crusty bread.
Mediterranean Mussel Salad

Number of servings: 5

Preparation time: 10 minutes

Cooking time: 5 minutes
Ingredients:

5 cups baby spinach, chiffonade (leaves sliced finely into long strips)

2/3 cup extra virgin olive oil

1 tablespoon chopped fresh tarragon

2 teaspoons natural honey

1 cup cooked fresh PEI mussels, shucked and chopped

1/4 cup lemon juice and zest

1/4 cup cucumbers, finely diced

1/4 cup tomatoes, finely diced

1/2 cup red and yellow peppers, finely diced

3 tablespoons kalamata or black olives, pitted and sliced

1 tablespoon chopped fresh basil

2 teaspoons fresh whole grain mustard

2 tablespoons feta cheese, crumbled (for garnish)

Salt and ground black pepper
Directions:

Combine the spinach and tarragon in a large bowl. Lightly toss spinach and tarragon with the olive oil (1/4 cup oil blended with the honey). Season with salt and pepper and set aside in the refrigerator. Wash the fresh blue mussels in cold water. Set aside, discard any that do not close. Steam mussels in a covered pot until they open up (five to seven minutes), discarding any mussels that do not open. Remove meat from shells and set aside. Combine lemon juice, mustard, and herbs. Whisk in 1/3 cup olive oil in a light stream until fully incorporated. In a separate bowl, combine mussels, cucumber, tomatoes, peppers and black olives. Gently toss with the prepared vinaigrette. Set in the refrigerator for one hour to allow the flavors to combine. Season the chilled salad with salt and black pepper. Garnish with feta cheese and serve immediately.