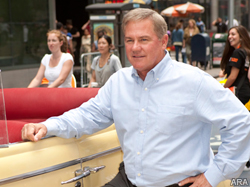 It's no secret that guys love their cars, but are they more likely to always change the oil on time than to visit the doctor for their annual checkup?
Almost 70 percent of men find it easier to care for their cars than for their personal health, according to findings from a new survey of 501 men ages 45 to 65 commissioned by Men's Health Network and Abbott. In addition, more than 40 percent reported they would be more likely to address issues with their car than their health.
Men may bring their cars in for service when an issue arises, and schedule regular tune ups to ensure that things are running smoothly, but they might not address their health in the same way. As a result, some men may be ignoring the symptoms of certain health conditions because they are reluctant to visit the doctor, the survey found. If men treated their bodies the way they treat their cars, they would schedule regular doctor's appointments in the same way that they schedule regular tune ups.
The survey is part of "T-Talk Tune-Up," a new national campaign to raise awareness of men's health issues. Racing champion Terry Labonte and national men's health expert Dr. Harry Fisch have teamed up to lead the campaign and encourage men to schedule annual checkups with their doctors.
"For many men, tuning up our cars is easier than getting checkups for our health," says Labonte. "With the help of my wife, Kim, I began to think about my body and my health in the same way I think about the care of my cars. As a result, I scheduled a doctor's appointment and a series of tests to help stay on top of my health."
Dr. Fisch recommends five health tests every man should discuss with his doctor, including a testicular exam, prostate exam, cholesterol test, testosterone test and blood pressure screening. "It is important to schedule annual checkups because some men may not recognize the symptoms of many treatable conditions such as low testosterone," says Fisch, board certified urologist and clinical professor of medicine at New York Presbyterian Hospital/Weill Cornell Medical College and director of the Male Reproductive Center.
Millions of American men are estimated to have low testosterone, but it may be overlooked because the symptoms are subtle and similar to those caused by other conditions. Men may experience symptoms such as sexual dysfunction, decreased sexual desire, decreased muscle mass, loss of body hair, low sperm count, decreased bone mineral density or increased body fat as a result of having low testosterone.
To learn more about the importance of men's health visit www.TTalkTuneUp.com. The site provides men with tips for caring for their cars and their bodies, including a free health maintenance guide. The guide includes information on important tests guys should know about and tips to help keep their bodies running as smoothly as their cars.