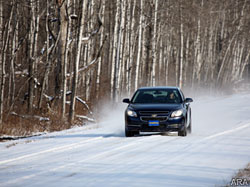 This year, millions of Americans will be hitting the roads and facing cold temperatures, along with the snowy and icy conditions winter weather brings. These factors are not only a nuisance, but at times, very dangerous, even for the most confident and experienced drivers. Simple driving maneuvers, such as starting, stopping and making turns can become very challenging if vehicles are not properly prepared for inclement weather.



After their homes, the second-largest financial investment for most is their vehicle; helping it stay in good working order during the colder months of the year should be a top priority. Because money is often tight in the given economy, you may be reluctant to spend on services or maintenance that could be put off, at least for the short term. Such decisions, however, could potentially shorten the life of a vehicle, decrease its fuel efficiency or even help create unsafe driving.



To prepare vehicles for the winter months ahead, here are some simple tips to help you arrive safely at your destination.



Traction is key: The economy has forced many to postpone tire purchases, but with wet weather and unpredictable winter conditions ahead, now is not the time to have low tread on your tires. Your tires need good traction to help keep your car on the road. It's important to have the correct tire tread and in particularly cold climates, drivers should consider investing in winter tires. For example: The Winter Reactive Technology used in Goodyear's Ultra Grip Ice WRT tires offer a combination of innovative tire features to help drivers react to changing weather conditions with enhanced starting, stopping and turning traction for superior performance on the roads. Winter driving experts such as the ILR Car Control School, located in Mount Albert, Ontario, choose Goodyear UGI Ice WRT for superior performance in winter conditions.



Feel the pressure: As temperatures change, so does tire pressure. Proper tire inflation is essential for increased automotive safety, optimum driving performance and even good fuel mileage. Tires should be inflated to the vehicle manufacturer recommendations printed on the vehicle door placard or in the glove box and should be checked at least monthly. Over-inflation can lead to premature or irregular tire wear and under-inflation reduces a vehicle's fuel efficiency by an average of 3.3 percent.



Keep it clean: Consumers' cars, trucks or SUVs are likely weathering the harsh conditions and corrosive elements associated with winter, including freezing rain, snow, ice, sand and salt. Keeping vehicles clean will help protect them from the chemicals and dirt that may attack the car's finish and undercarriage. Be sure to use quality cleaners and waxes specifically designed for handling a car's finish.



Keep it flowing: Oil is the lifeblood of the engine, helping to keep it running efficiently and effectively. Not sure what oil to use? Defer to a professional or use the grade of motor oil recommended by the vehicle manufacturer to achieve optimum engine protection and fuel efficiency.



Be prepared: Keep a survival kit handy. A flashlight with fresh batteries, a blanket, water bottles, cellphone charger, jumper cables, flares, a "help" sign, and a first aid kit will prepare you for emergency situations or unexpected breakdowns.



For more helpful car care advice or information on tires for cars, light trucks, SUVs and more, visit your local Goodyear retailer or go online to www.goodyear.com.