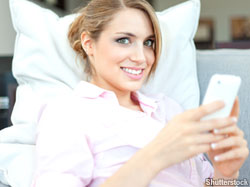 The holiday season is full of festivities from children's plays to office parties to checking off shopping lists. That means many consumers are multitasking. Never fear, there are an array of apps for both the iPad and smartphones to help you accomplish your seasonal tasks on the go.



Epicurious: Free

A staple of the holidays is food – and lots of it. Whether cooking up a feast for a dozen or assigned to bring a side to the family event, the Epicurious app has you covered. The app offers more than 30,000 recipes from publications like Bon Appetit and well-known chefs and cookbooks. Browsing is simple with specific categories – from party snacks to decadent desserts – and users can search by not only typing in keywords, but also using icons such as what's in season and what holidays are approaching. The app automatically updates so you can be sure to snag the latest recipes and features a handy shopping list you can save for when you hit the supermarket. A newer feature lets amateur chefs share favorite dishes with friends via Facebook, Twitter and email. And when it comes to actually putting together your culinary masterpiece, Epicurious helps there too – offering cooking-friendly views that make it easy to follow a recipe step-by-step. For $ 1.99, you can also save favorite recipes and sync your Favorites list in the app with your online Recipe Box at Epicurious.com. A great feature for if you create a hit that the clan wants again next year.



Amazon Price Check: Free

In the store holiday shopping and think you just might find a better deal on online? Amazon Price Check helps you make sure. Use Price Check to scan a barcode, snap a picture, or type or say an item name to check prices on Amazon.com products and buy them directly from the app. You also can add items to your Amazon Wishlist and share via Twitter, Facebook, text message and email link.



Camera +: 99 cents

What's the holidays without pictures to capture the memories? On sale for a limited time for less than a buck, Camera + lets you enhance your smartphone photos by zooming in (up to 6x) and out, cropping, editing, adding color filters and more. You can set exposure separately from focus for more control over your shots and use a flashlight to brighten up your photos – perfect for outdoor holiday snow scenes. It also comes with a stabilizer to steady your camera for sharper pictures and a built-in grid so you can line up your shots and avoid angled photos. Other features include borders, sharing via Facebook, Twitter, and Flickr and cool effects from professional photographer, Lisa Bettany, ranging from "Grunge" for that urban city feel to shimmer effects with "HDR" that are just right for shots by the tree.



Orbitz Hotels App for iPad: Free

Whether booking travel for the holidays or to escape afterwards, the Orbitz Hotels App for iPad makes it easy to book on the go. The app not only lets travelers book hotels at any of the global destinations available on Orbitz, it also allows consumers to find hotels nearby using the iPad's GPS capabilities – particularly convenient for same-day bookings. Consumers can also search by city, address, zip code or landmark and filter and sort hotels by price, star rating, review score, distance and even neighborhood. The neighborhood feature is a handy tool if you want to book near relatives over the holidays but are unfamiliar with their area or if you want to be close to the slopes but avoid the high cost of staying right at the resort. Users also can compare hotels and prices on an interactive map while tiles alongside the map provide summarized hotel information that expands to show photographs, guest reviews, special offers, amenities and detailed hotel/room descriptions. And, if your holiday shopping has you on an extra tight budget, the app lets you toggle from a map view of hotels to an innovative matrix view to easily compare many hotel options (and prices) at once.



Calculate Discount and Sales Tax: Free

Stores are littered with so many discounts over the holidays it can be confusing to figure out what they all mean for your bottom line. Enter the Calculate Discount and Sales Tax App, a handy way to quickly know how much 25 percent off actually equals in a shopping trip and tally how much you're spending. It also can calculate sales taxes for a specified area – a bonus for those out-of-town shopping trips.