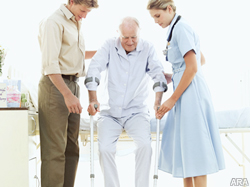 For 66 million Americans, taking care of an aging, seriously ill or disabled family member or friend is a part of daily life. Fortunately there are numerous resources that can make the process easier.



Caregivers can start by turning to Ask Medicare, a service created by the Centers for Medicare & Medicaid Services (CMS) that offers a number of useful resources through its website at www.medicare.gov/caregivers. The site gives caregivers tips on how to make the most of the Medicare program and offers tips on managing chronic illnesses, finding and paying for nursing home and assisted living care, finding local organizations that support caregivers and much more. Representatives of the program also offer recommendations to help caregivers deal with short and long-term financial issues:



* Talk with the person you are caring for about legally authorizing you to make decisions about his or her medical care. Discuss personal wishes and develop a living will to provide direction on the kind of health care the person desires and needs. Having this plan legally developed can make it much easier for you to make decisions in the future, especially for loved ones who are unable to speak for themselves.



* Get started; contact your State Health Insurance Assistance Program in your area by visiting www.medicare.gov and clicking on "Help and Support or "Useful phone numbers and websites." Also visit www.agingwithdignity.org for a "5 Wishes" document that can help you talk with family members about how they want to be treated.



* Review finances and health care accounts. Medicare can reduce many out-of-pocket expenses for your loved one, but it does not cover everything. Make a monthly and yearly list of all income sources, such as Social Security and pensions, as well as monthly and yearly expenses, savings and investments that impact the overall financial picture.



* Learn which types of services are paid for. Visit "Caregiver Topics," "Paying for Care" and "Which expenses are covered" sections on the Ask Medicare site. Deductibles, co-payments and nursing home care are not covered by Medicare.



* Keep detailed notes of medications, appointments, doctors and other medical treatments. Share this information with other family members or friends who might be able to step in and help you as a caregiver if needed.



* Start focusing on preventive care such as tests, shots and screenings once you have a future plan in place. Medicare covers preventive care items such as flu shots, bone mass measurements, glaucoma tests and other screenings. To learn more, visit the Ask Medicare site to find "How Medicare Supports Various Types of Care."



* Learn how to get the best value from the Medicare program. Ask Medicare also offers practical information about enrolling your loved one in Medicare, choosing a prescription drug plan, finding state and local resources and a free e-newsletter with the latest Medicare updates.