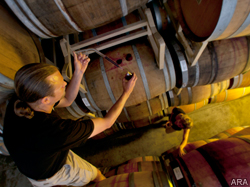 People are more interested in food and wine than ever. Turn this passion into a fabulous holiday gift: one that will have the recipient enjoying his gift throughout the year.
A new trend is emerging with more people developing interest in a carefully cultivated wine and food lifestyle. People are creating their very own vintage – making it a great holiday gift idea. Take Bob Mollica from Boston, who recently bottled his 2009 Lodi Cabernet Sauvignon.
"It's always been a dream to have my own wine," says Mollica. "I wanted to find a way to create a California wine to enjoy and share with friends while continuing my day job here in Boston."
That dream is now a reality. He uses Estate Crush, a Lodi, Calif.-based custom crush winery that oversees the entire winemaking process.
Estate Crush provides clients a seamless experience from start – sourcing fruit from reputable growers – to finish. The end product is a bottled wine complete with a personalized label.
In recent years, a number of companies have offered custom labels on wine, but it's unusual to have creative control over what's going into that personalized bottle. The Estate Crush private barrel program lets clients adjust the winemaking protocol to make the wine to their personal specifications, and also involves clients in the process by scheduling tastings with the winemaker via videoconference or in person for important decisions such as oak additions and blend percentages. Clients can also adapt the size of the end product to their needs, ranging from one barrel (24 cases) to just one-quarter barrel (6 cases).
The popularity of wine in the United States is at an all-time high. In fact, the U.S. surpassed France as the largest wine-consuming nation in 2010, with wine shipments across the U.S. – coming from California, other states and foreign producers – at nearly 330 million cases, a record high for the industry. And, in 2010 the per capita total wine consumption was 2.54 gallons – more than one case.
For a unique holiday gift or for oenophiles who haven't been able to find the perfect blend or who want an exclusive wine they can call their own, a private barrel program that allows them to create their own ideal wine might just be the solution.