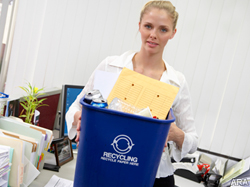 Regardless of the size of your workspace – be it large or small – you can take a number of steps to lighten both your environmental footprint and that of your organization.
You can make a real difference by taking the time to consider how work routines influence the health of the planet. By evaluating everyday actions and cooperating with your office manager and colleagues, you can get your office on track for a greener future.
Of more than 1,000 business professionals surveyed for the Tork Report: Healthy People, Healthy Planet, commissioned by SCA and conducted online by Harris Interactive in 2010, results revealed that 59 percent of respondents have started to make small changes to become greener when making lifestyle or business decisions.
You can also work with your facility manager to see what green initiatives are being executed at a higher level and encourage further efforts. Find out if your building is LEED certified or if there is a corporate sustainability plan in place. Your facility manager can also share if third-party certified products are being used in building operations, such as toilet paper, facial tissue and paper towels made from 100 percent recycled fibers.
Here are some ways you can put green into action throughout your workday.
* Commute to work. While hopping in the car may be an easy option, taking public transportation, biking or even carpooling can start off your day in an environmentally conscious way. With high gas prices, it may even help save a penny or two.
* Rethink drinking containers. Before you grab that cup of joe, reconsider the type of drinking container you're using each day. Get into the habit of reusing a mug or glass for water at the office. Avoiding the use of disposable cups can make a big difference and help set a positive standard in your office.
* Get some small indoor plants. If you're lucky enough to have an office with a window, put your green thumb to work and bring in a plant. If you work out of an interior office or cubicle, do a little research to determine which plants can survive without direct sunlight.
* Do you really need a lift? While taking the elevator may be easy, save that energy by taking the stairs instead. Picking this alternative can make a sizable difference in your everyday energy consumption. It's also a great way to get some exercise.
* Watch your printing habits. If you have to use large quantities of paper, suggest your office buy recycled paper and make it a habit to print on both sides to cut use in half. If you've printed off too many copies, be sure there is a recycling bin nearby to dispose of the extra paper.
* Evaluate the restrooms. Take a close look on your next bathroom break to see if one-at-a-time paper towel dispensers are being used. These dispensers help cut down on the use of excess paper and will help your organization save money. Remember to bring this up with your facility manager if they're not currently using energy saving technology.
* Turn off the lights. Avoid leaving the light on in the copy room if it's going to be unused at night. The same goes for other common areas in your office. Be sure to turn off your computer and power strip at the end of your workday and encourage others to do the same.
Take green to the next level in your organization by working with those around you. Your office manager can be a key player in executing office efforts to go green. As the decision maker for purchases and processes for your office, it is important to voice your desire for environmentally conscious practices with him or her.
You can also work with colleagues interested in implementing green initiatives. Establishing a team to drive green programs can be a great way to raise awareness of their importance in your organization, says Josh Radoff, co-founder and principal of YRG sustainability consultants and a member of the Tork Green Hygiene Council.
For more information on how to incorporate sustainability into your way of life, visit www.torkgreenhygienecouncil.com.