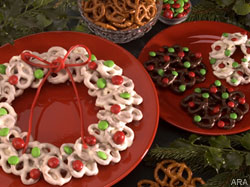 The invitations are arriving. Office parties, family parties, school parties and the list goes on; it's a sign the holiday season is fast approaching.
To make your season a little less stressful and a lot more delicious, Snyder's of Hanover has compiled the perfect holiday dessert recipes, all with a unique pretzel twist. So instead of bringing the typical cookies and cupcakes, make your dessert stand out with a trip down the snack aisle for pretzels.
Holiday Pretzel Wreath
Ingredients:

1 package (about 6 ounces) of your favorite chocolate (milk, dark, or white)

1 bag (9 or 10 ounces) of Snyder's of Hanover pretzels (mini's, thins, or homestyle)

Red and green candies (chocolate shell candies, jelly beans, sugar sprinkles)

1 package of red shoestring licorice

Wax paper
Directions:

Line a cookie sheet with wax paper. Melt chocolate in microwave or double boiler; stir. Using tongs or a fork, dip the pretzels into the chocolate and layer in a circle, like a wreath, onto the wax paper. After the wreath(s) are formed, use the red and green candies to sprinkle or place on top of the wreath(s). When you have completed the wreath(s), cool until set. Once the chocolate has set, use the shoestring licorice to tie into a bow, at the top of the wreath.
Peanut Butter Pretzel Chocolate Chunk Cookies
Ingredients:

1 cup butter, softened

1 cup peanut butter

1 cup sugar

1 cup brown sugar

1 teaspoon pure vanilla extract

2 eggs

3 cups flour

1 teaspoon baking powder

1 teaspoon baking soda

1 3/4 cups crushed Snyder's of Hanover Mini Pretzels

1 (11.5 ounce) bag semi-sweet chocolate chunk morsels or chips
Directions:

Preheat oven to 350 degrees Fahrenheit. Beat butter, peanut butter and sugars until creamed. Add vanilla and eggs and mix well. Add flour, baking powder and baking soda and mix. Finally add crushed pretzel pieces and chocolate chunks, mix until combined. Using a small cookie scoop, place cookie dough on ungreased cookie sheets, making sure they are 2 inches apart from each other. Bake for eight to 10 minutes. Cool on a wire rack and store in an airtight container. Used with permission from butmamaimhungry.blogspot.com/2009/08/peanut-butter-pretzel-chocolate-chunk.html.
Fruit Tart with Pretzel Crust
Ingredients:

Crust:

3 cups finely crushed Snyder's of Hanover Pretzels

2/3 cup sugar

1 1/4 cups cold butter or margarine
Topping:

1 (14 ounce) can of sweetened condensed milk

1/4 cup lime juice

1 tablespoon lime zest

1 1/2 cups whipped topping

7 cups assorted fresh fruit, sliced
Directions:

In a large bowl, mix crushed pretzels and sugar. Cut in butter until mixture resembles coarse crumbs. Press into a 9-by-9 brownie pan or small casserole dish. Bake at 375 Fahrenheit for 10 minutes or until set. Cool at room temperature and then refrigerate for 45 minutes. Meanwhile, combine milk, lime juice and lime zest. Fold in whipped topping. Spread on cold "pizza." Top with fruits. Keep refrigerated.
The invitations are coming, but now you're prepared. Just make a quick run to the grocery store and visit the snack aisle for a wide selection of Snyder's of Hanover branded pretzels, including minis, sticks, or homestyle. For even more fun holiday recipes visit www.snydersofhanover.com/Recipes.