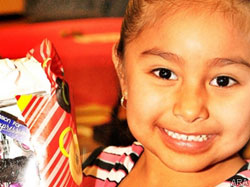 Drug abuse. Divorce. Homelessness. Imprisonment. Little Forrest has witnessed them all. With his father in prison and his mom lost in a haze of drug abuse, Forrest's maternal grandparents took custody of him when he was just 2 years old. For Forrest, his dad's prison sentence seemed like a punishment for him, too.



Due to his difficult start in life, Forrest had many behavioral issues, so his grandparents worked hard every day to provide him with love and stability he needed. But as Christmas neared, Forrest's grandmother Bonnie began to worry. If Forrest's mom didn't visit, or his dad didn't call, Forrest's behavior would regress.



Forrest's struggles are not uncommon. One in three prisoners is a parent, and about 75 percent of women in prison are mothers. One in every 43 children has a parent in prison, which means more than 1.7 million children will spend Christmas separated from their incarcerated mom or dad.



"Every time a parent goes to prison, their sentence is also a form of punishment for their children. These kids don't necessarily understand why their parents are not with them for the holidays. They only want to be with their parents, and to feel their parents' love, just as any other child would during this special time of year," says Jim Liske, CEO of Prison Fellowship, a nonprofit organization that helps inmate rehabilitation.



Children whose parents are serving time struggle every day with feelings of anger, abandonment, loneliness and despair. But a simple Christmas gift from their incarcerated parent can show a hurting child that they are still loved, and that the parent-child connection can survive the separation of imprisonment.



Prison Fellowship's Angel Tree is a unique program that works by connecting parents in prison with their children through the delivery of Christmas gifts. At such a critical time in Forrest's journey, Angel Tree connected him with his father – helping to make sure that he stayed on a path toward healing and stability.



"We got a call that Forrest's dad was sending Christmas gifts through Angel Tree," Bonnie says. "It was just so nice to have people supporting us."



Today, Forrest's mother is working on turning her life around and restoring her relationship with her son. Forrest's dad will be released from prison soon. He, too, has vowed to turn his life around and be a faithful father.



Support Angel Tree by "liking" Angel Tree on Facebook. You can even give a secure gift through the charity's official website at www.angeltree.org. Just $ 12.58 will help deliver a Christmas present to not one, but two lonely children thanks to a matching grant.



Your generosity makes it possible for children like Forrest to feel remembered and loved this holiday season. Make a difference in the life of a child by giving them an unforgettable Christmas filled with joy and hope.