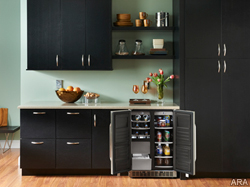 When the weekend arrives, going out to a local establishment to meet up with your friends to relax and enjoy your time off is a time-honored tradition. But going out involves a lot of planning and coordination – not to mention the money you'll inevitably drop on food, bar tabs and transportation. The good news is with the right modifications to your home, you can make a night in seem just like a night on the town.
Turning a room or part of your home into a bar or recreational area can make your abode a destination in itself, as you'll have the comforts of the pub within the privacy of home. When trying to make your home an entertaining destination, focus on the things that you and your friends enjoy about your favorite hangouts. Here are a few improvements to consider as you construct your space:
* Start with the bar. Your bar will provide both a place to distribute food and drinks to your guests, as well as a central place to gather for conversation. Depending on your taste, you could go with a classic horizontal bar, or an L-shaped bar that promotes more face time and conversation. Make a wish list: Is it to be a wet bar plumbed for a sink, and do you have ample power to supply the fridge, blender, stereo and other electronic equipment? Don't forget the ergonomic layout – is the barware within easy reach and the fridge easily accessible?
* Build to accommodate accessories. It goes without saying that a refrigerator is a must, but areas with limited space might not accommodate a full-size refrigerator. Compact under-counter models are perfect in this situation. Typically 24 inches wide and counter-high, these are available in a variety of styles, including wine fridges, beverage centers or kegerators. Determining how you entertain is key says Steve Atkinson, senior marketing manager for Danby Products. "Our Silhouette Select Party Center was designed with entertaining in mind. This unique space-saving fridge offers three separate temperature zones for wine, beverage and ice production in one sleek stainless steel-wrapped package. It's competitively priced, offering extremely good value for the money."
* Distinguish with bar decor. One of the more subtle ways to make your home bar feel more like the real thing is paying special attention to lighting and decor. Adding light fixtures above the bar will draw visitors in. Incorporating a mirror into the back bar will evoke the classic pub look, but the real reason you see mirrors behind bars is because they make the area feel larger than it actually is – a plus when you're working with limited space. Use vintage beer signs or sports memorabilia to inject your own personality into your entertaining area.
* Entertainment. If you have the space, installing a pool table, dart board or other favorite bar games can greatly add to the fun. If you install a TV, consider adding it in a place where it can be seen from almost anywhere in the room, yet doesn't dominate the space or get in the way of conversation and interaction. If you're pressed for space, place card games and board games nearby, as they can make for great ice-breakers.
* Set a vibe. The music selection is a key ingredient to the atmosphere in any bar, so you'll want to give some thought to the sound system you use. One option is to connect your system to your patio, so you can play tunes inside and out. Otherwise, nothing exudes a warm and inviting sound than a vintage turntable. If you and your friends are audiophiles, a record player is all you need for a night of conversation and audio delight.
Constructing a bar might require a little investment up front, but you'll quickly began to recoup your expenses as you spend more time at home instead of going out. And when you build your own space, you can combine all the elements of your favorite watering holes. By adding your own personality to your space, you can build something that's sure to become your friends' new favorite destination.