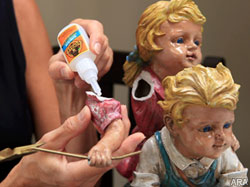 When the cold outside drives you indoors, it's only natural to want to snuggle up and relax the months away. But this year, reconsider winter as the perfect time to take on do-it-yourself projects.



Whether you're tackling home improvement projects or small fix-it tasks, devoting time to getting it all done will help you beat cabin fever and give you a sense of accomplishment. Consider taking on some of these simple projects that need attention in virtually every household, and spring will be here before you know it.



* Tighten up what's loose. Does the handrail along your stairs shake when you grab on to it? Is there a dining chair that wobbles? These aren't just annoyances – they could be dangerous. Luckily, they are quick fixes when you have the right tools. For example, if one of your chairs has a stretcher that's come loose from the leg mortise, use a tenacious glue to re-establish a secure bond. Armed with a screwdriver, an allen wrench set and a bottle of Gorilla Glue, you can make the rounds in your home and tighten up loose screws or furniture joints.



* DIY shoe repair. Shoes take serious abuse, not just in the winter, but all year round. Have the whole family pull out their shoes that are leaky or have loose soles or footbeds, and get to work. Use Gorilla Super Glue to secure everything back in place, and everyone's favorite shoes will be as good as new.



* Freshen things up. If you've been feeling like your home is in a design rut, take the time to incorporate new decor details. Painting the walls a new color can liven up any room, and doesn't take much time or effort – just be sure to crack the windows a bit for good ventilation. If you're feeling more ambitious, consider a fun and eco-friendly "upcycling" craft project. Items like old shutters or windows can be reimagined as coffee tables, mirrors or displays for family photos. All you need is some creativity and an afternoon – and of course, essentials like Gorilla Wood Glue and a basic tool kit.



* Banish what's broken. Many people have broken items tucked away to be worked on "on a rainy day." Instead, use a snowy day as an excuse to super glue handles back on pitchers, fix broken vases or even repair wooden and plastic toys. Rather than consigning these items to the trash heap or letting them loiter in a closet, you'll be able to enjoy them all over again.



Keeping busy with home projects throughout the winter has a lot of benefits. You'll be burning off the calories that inevitably come with the season's comfort foods and maybe even having a bit of fun. And, perhaps most importantly, you'll be clearing your schedule so that when spring comes around, you can focus on getting outside and enjoying yourself.