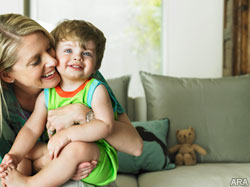 Being protective goes hand-in-hand with being a parent. From hand sanitizer gel to bike helmets to high-tech car seats, moms and dads will go to the ends of the earth to keep their little ones safe, sound and happy. But eventually, the scrapes and bruises no longer need a healing kiss, the training wheels come off the bike and the day comes when they're driving to school – not just high school, but college. You might be surprised, but there are actions you can take now that will protect them then – and even beyond.
It's not uncommon for new parents to consider adding life insurance coverage to the other policies that they carry, like car and health insurance. It can be a difficult thing to think about, but it's an added protection that will ensure that kids and the surviving spouse will be taken care of in the event that one parent dies. However, there are other ways in which a life insurance policy can make a difference for your child.
It might not be something that immediately comes to mind, but taking out a life insurance policy for your children could have lasting benefits for their financial future. However, doing so when they are still young could not only add up to cost savings over the long term, but better protection of their assets as they themselves get to an age at which they'll consider a family of their own.
In practical terms, giving your children the gift of a life insurance policy protects them from medical underwriting and high costs. You'll be establishing the coverage early enough that costs will be lower, particularly in the initial stage, and it can help to keep them manageable further down the road, depending on the plan.
Over the years, a life insurance policy can become an important part of your children's financial protection. And once they're at the right age to have the discussion about how to be financially responsible, it can be a helpful example, among other lessons like establishing good credit and smart spending habits.
Some insurance plans will allow your child to make changes as their life progresses, giving them the chance to increase coverage as they go through life's milestone events, like getting married, taking out a mortgage to buy a house and having children of their own. Premiums will naturally increase with added coverage, but the added costs associated with medical underwriting will be eliminated.
Looking out for your kids is an instinct that will never fade. As they grow, you'll help guide them on the right path in life, but at some point, they'll be off on their own. Giving them long-term protection when they're young will ensure that you're helping to watch out for them, long after they've left the nest.