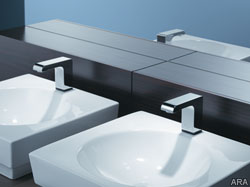 Do you know if your apartment building, place of employment, or favorite hotel is operating efficiently? Even the seemingly minor decisions we make each day can have a significant impact on our health, finances and surrounding environment. While most people know about the small changes they can make at home to have a positive impact, including using natural products, recycling and reducing waste and installing efficient appliances and fixtures, they may not know how easy it is to make the same environmentally friendly choices outside the home. Energy efficiency and water conservation continue to gain visibility in the commercial building sector, too.
The ENERGY STAR program, jointly administered by the U.S. Environmental Protection Agency (EPA) and U.S. Department of Energy (DOE), offers technical information and tools to help people identify energy-efficient products, solutions, and practices. It serves as a mark of excellence in energy performance. Did you know you can learn whether a building, such as the one in which you work, is ENERGY STAR labeled? It's as easy as visiting the ENERGY STAR website and searching the online index.
The WaterSense program is another EPA partnership program that aims to raise awareness about the importance of water usage by labeling water-efficient products, such as bath faucets, urinals, showerheads and toilets, that perform better than the industry standard. It also encourages plumbing manufacturers to design new products with its specifications in mind so consumers and businesses can more easily find water-efficient products.
This year, Delta Faucet Company was honored as 2011 WaterSense Manufacturer Partner of the Year. Delta Faucet has an array of WaterSense labeled products as part of its commitment to finding a smarter way to work with water. Launched in 2008, the WaterSense Partner of the Year awards recognize partners that help advance the overall mission of the WaterSense program, demonstrate overall excellence in the water-efficiency arena and increase awareness of the WaterSense goals in a measurable way. Each year, the program recognizes just one manufacturer that demonstrates exceptional performance in each of these areas. As part of its commitment to sustainability and support of the WaterSense program, Delta Faucet Company develops products that promote water efficiency in both residential and commercial settings.
Additionally, in 2009, Delta Faucet introduced an additional water-efficient product separate from its WaterSense labeled products. The new technology is specifically designed to improve water efficiency in commercial and business settings. Proximity Sensing Technology is more sensitive and intuitive than traditional infrared hands-free faucets. A four-inch sensing field around the entire faucet detects movement and controls the flow of water. Users don't need to touch the faucet to turn the water on and when they move their hands out of the sensing field, the valve automatically turns off, helping to save water.
Want to factor some of these resources into your upcoming travel plans? According to the EPA and the DOE, Los Angeles, Washington, D.C. and San Francisco are among the most environmentally conscious cities in the United States, based on their number of ENERGY STAR certifications.
As consumers, we can all be more environmentally conscious while we travel by looking into hotels that take pride in green building. The Hospitality Sustainable Purchasing Consortium (HSPC) is a movement led by top experts, suppliers, architectural firms and purchasing companies, such as Delta Faucet Company, Marriot International and Valley Forge Fabrics, to encourage environmental endurance measurement and develop key performance indicators for the hospitality industry. Visit the HSPC website to find participating hotel chains and manufacturers. If you're still uncertain after researching your hotel online prior to booking, call and speak to someone at the hotel about their green initiatives.
"There are plenty of tools available online to help consumers reduce their carbon footprint and live more efficiently outside of the home," says Ken Martin, senior director of commercial sales for Delta Faucet Company. "The goal is to make it easy for anyone and everyone to choose products and services that offer quality, value, service and sustainability."
Living sustainably outside of the home, as well as within, is crucial when it comes to protecting the environment and preserving our natural resources. Tap into the many government and online resources available to help make practicing an environmentally friendly lifestyle even easier.