NEXT VIDEO
Most fans look at a depth chart and see a bunch of names and classes, heights and weights. A coach looks at a depth chart in search of a championship. Starters can take a team a long way. But starters can't play every down. Who comes in when a starter needs a break can make the difference between a good team and a championship team.
For all of the stars that the Southeastern Conference has produced, it's the second line on the SEC depth charts that has propelled the league to the past six BCS championships.
"Your two is just as good as your one, even your one who is a superstar," Mississippi State head coach Dan Mullen said. "You have another guy who's going to step right in and be a superstar. That, to me, is what the top teams have. I look at my depth when I was an assistant coach at Florida and we were winning championships [2006, 2008]. The quarterback room was Tim Tebow, Cam Newton, Johnny Brantley. That's depth."
[+] Enlarge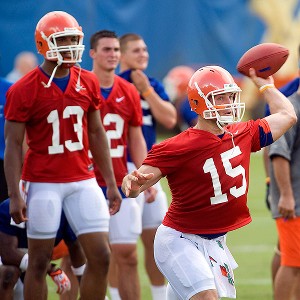 AP Photo/Phil SandlinThe personification of depth: John Brantley backing up Cam Newton backing up Tim Tebow.
LSU and Alabama have risen to the top of the SEC and the top of the BCS because of their depth, especially at the line of scrimmage. The Tigers return four defensive ends who combined for 20 sacks last season, including All-American junior Sam Montgomery and second-team All-SEC junior Barkevious Mingo. That's depth.
In fact, Mingo emerged last season as senior Kendrick Adams battled injuries. That's depth.
Tigers defensive tackle Michael Brockers, the 14th pick in the 2012 NFL draft, will be replaced by Freshman All-American Anthony Johnson. That's depth, too, as Mullen explained.
"If we sustain an injury, there's not a dropoff. There's another guy who can come in," Mullen said. "There's depth where we can rotate players. Our two is just as good as our one. As your ones get tired throughout the game, we've been rotating our guys constantly without any dropoff. And then the third one in depth is, you have a Fletcher Cox leave, the 12th pick in the NFL draft [Mullen snapped his fingers] you have another guy who's going to be the 12th pick in the draft this year. You continually just roll guys through."
Alabama has been deep on the defensive line, too. The Crimson Tide have had a defensive tackle drafted in each of the past three years. Depth is important on the offensive line, too, albeit for different reasons than on defense. Coaches don't rotate players in and out of the offensive line. The play of the five linemen depends too much on choreography, each player knowing where the others will be.
However, the Crimson Tide has the human depth chart, offensive lineman Barrett Jones. The fifth-year senior won the Outland Trophy last season playing left tackle after starting for two years at right guard.
Naturally, in 2012, Jones will play center.
"If you can rotate fresh guys in, especially on defense, I think it's a huge advantage," Jones said.
As a left tackle last season, he blocked the LSU defensive ends on 129 plays over two games — the 6-3 loss at Tuscaloosa on Nov. 5, and the 21-0 victory in the BCS Championship Game on Jan. 9.
"That was one of the challenges of playing them," Jones said. "They were so fresh in the fourth quarter because they had four really good defensive ends. They were two on each side that could confidently rotate in and keep fresh. I definitely think it's important and it's an advantage."
Jones refused to discuss the difficulties presented by a fresh defensive end in the fourth quarter.
"I have to have confidence that I'm in great shape," Jones said. "It makes you have to be in great shape. I'm not going to say it mentally affects me. Coach [Nick] Saban would get mad at me if I said I was affected by somebody being fresh out there. You know how he is about that kind of stuff. … You don't think about those kind of things. You control what you can control."
But he happily discussed what it feels like to look across the line in the fourth quarter and see a defensive line that isn't fresh.
"What I look for is somebody having their hands on their hips," Jones said. "They got their hands on their hips. They look tired. That's when I know we've got 'em. We're about to break the game wide open. We go into that mode that o-linemen love so much. We start running it every play. They know it's a run, and we know it's a run. It's a great feeling."
Developing that kind of depth comes down to recruiting and to redshirting. Anyone can spot and sign a five- or four-star player. But that type of player has little to do with creating championship-quality depth.
[+] Enlarge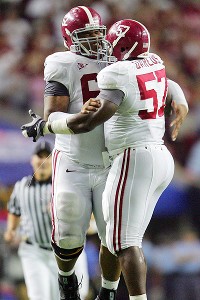 Marvin Gentry/US PresswireTerrence Cody and Marcell Dareus were both high draft picks after teaming up at Alabama.
"In a class of 25, how well do you evaluate Nos. 11-25?" asked Texas A&M special teams coordinator Brian Polian. "The teams that do that really well are the teams that have quality depth."
Another aspect of creating championship depth, Polian said, took place over the first two weeks of this month.
"The first seven or eight practices of training camp," Polian said. "By the time we get to practice nine, we ought to be able to look at all our freshmen, all our newcomers, and say, 'All right, that guy, you've got it, you're ready to go.' He's going to be able do something for us."
That something, Polian said, is special teams.
"Really, that's something that I feel personally responsible for," he said. "If a guy is physically talented enough, and I can get him ready to play [on special teams] in Weeks 1-6, and that's how he gets his feet wet in college football, then Weeks 7-12, all of a sudden, they figure out, 'Hey, the game's not too fast for me. These guys aren't too big for me. I belong here.' Next thing you know," Polian said, "you find those guys creeping into the two-deep on offense and defense."
For those players who aren't ready, there is redshirting. In the win-now era, redshirting may be a luxury afforded only the established coach. South Carolina coach Steve Spurrier muddled through five seasons of mediocrity (cumulative record: 35-28) before winning the SEC East in 2010 and going 11-2 last season. The difference, he said, came down to creating depth through redshirting.
"I remember in '05, '06, '07, '08, somewhere in there, we might have had five guys in their fourth year," Spurrier said at SEC Media Days. "Nobody stuck around much. If you stuck around four or five years at South Carolina, you were something special. … We're getting to where we redshirt at least half of them now — if we bring in 22, at least half of them or so. We're able to redshirt the offensive linemen. So many come in and played right away, which they weren't really ready."
As South Carolina developed depth, the Gamecocks began to win. It's no coincidence. It's a reason why SEC coaches and players have held up the crystal football for the past six Januarys.

ESPN.com