Updated: June 13, 2013, 1:28 PM ET
ESPN.com news services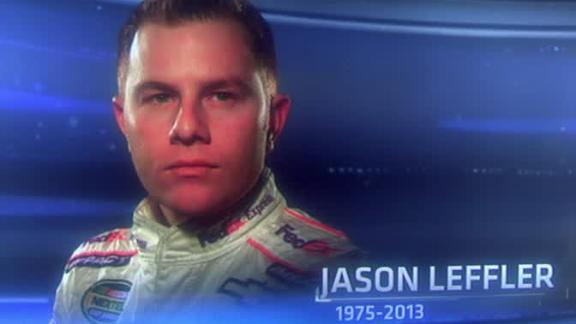 NASCAR Driver Leffler Has Died
NASCAR Driver Leffler Has Died
NEXT VIDEO
BRIDGEPORT, N.J. — New Jersey State Police on Thursday were trying to determine what caused the dirt track crash that killed NASCAR driver Jason Leffler on Wednesday night.
Leffler died after the crash during the first heat at southern New Jersey's Bridgeport Speedway, a dirt track about 15 miles southwest of Philadelphia.
The Gloucester County medical examiner said they haven't begun to examine Leffler's body, but will do so on Friday, according to ESPN.com's David Newton.
A spectator, Chris Taitt, said he was at the race but looking the other way when the crash occurred. He says Leffler had been in second place, apart from other cars when his car slammed into a wall at the track's fourth turn.
Taitt, 40, of West Deptford, said the wing on the car was "flattened like a pancake," and the seat appeared to be displaced.
Leffler, 37, a native of Long Beach, Calif., has won twice on NASCAR's Nationwide Series and finished in both the Indianapolis 500 and the Daytona 500, two of car racing's signature events.
But apart from a last-place finish in Sunday's NASCAR race at Pocono, he had spent most of 2013 racing on dirt tracks.
The 410 Sprint Car race Wednesday promised $ 7,000 to the winner.
While it's in the minor leagues of car racing, it was the highest profile event so far this year, with better-known drivers, more expensive tickets and a bigger prize than the usual Friday and Saturday night events at the raceway. While investigators tried to piece together what happened, the car-racing world was remembering Leffler, recalling him as a loving father to his 5-year-old son, Charlie Dean; an open person and a versatile driver.
"Despite his many accomplishments, Jason still followed in the same footsteps of his heroes that would race anything, anytime. All Jason wanted to do was race. He was the life of every party and a true racer," Leffler's representative, Spire Sports, said in a statement. "We will miss Jason dearly and know that his family appreciates all the thoughts and prayers."
Spire said funeral arrangements were being made.
Panther Racing Owner John Barnes, for whom Leffler raced in 2004 and 2005, said Leffler had a "fierce competitive spirit and a devilish attitude. Jason was a small man with a huge right foot."
Information from The Associated Press contributed to this story.

ESPN.com