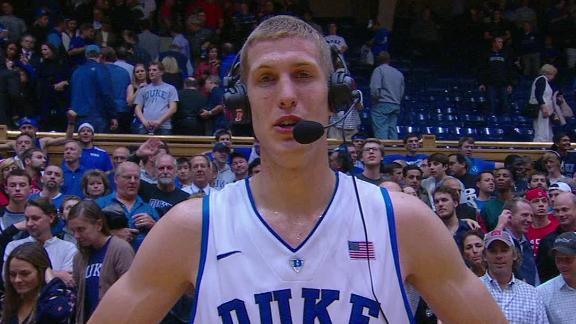 Mason Plumlee After Duke's Comeback Win
Mason Plumlee talks to Brent Musburger and Jay Bilas after 73-68 win over Ohio State.
Mason Plumlee After Duke's Comeback Win
VIDEO PLAYLIST
DURHAM, N.C. — Mason Plumlee had 21 points and a career-high-tying 17 rebounds, and No. 2 Duke rallied late and held on to beat No. 4 Ohio State 73-68 on Wednesday night.
Freshman Rasheed Sulaimon scored all 17 points in the second half. Ryan Kelly added 15 and hit 3-pointers on consecutive trips downcourt early during the 20-7 run that put the Blue Devils (7-0) ahead to stay and sent them to their third win over a top-five team this month.Deshaun Thomas scored 16 points for Ohio State (4-1), while Aaron Craft and Lenzelle Smith Jr. had 11 apiece.Shannon Scott pulled the Buckeyes within 66-64 with a free throw with 28.9 seconds left before Quinn Cook sealed it by hitting six free throws in the final 27.3 seconds.Cook finished with 12 points for Duke, which shot 58 percent in the second half to remain unbeaten at home in the ACC-Big Ten Challenge and preserve its school-record winning streak at home against nonconference opponents.The Blue Devils — who beat then-No. 3 Kentucky in Atlanta and then-No. 2 Louisville in the Bahamas — won their 97th straight against non-ACC visitors to Cameron Indoor Stadium.But for much of the way, nothing came easy for them. They were outrebounded 40-37, couldn't get anything going on the offensive glass, struggled to keep up with Ohio State's quick ball movement and couldn't find their touch.Then came the flurry of 3-pointers that put them in control.Sulaimon buried one from the key to pull the Blue Devils within 51-50 with about 6 1/2 minutes left. Kelly then hit 3s on consecutive trips down the court, including one in Amir Williams' face that put Duke ahead to stay, 56-53 — its first lead since the 14-minute mark of the first half.Plumlee then followed up Cook's missed layup with a dunk that made it 58-54 with 4 minutes left and sent the rowdy Cameron crowd into ear-splitting madness.Meanwhile, the Buckeyes could do little right down the stretch. With Cook in his face much of the game, Craft finished 3 of 15 from the field. His jumper with just over 3 minutes left was Ohio State's last field goal until Evan Ravenel's dunk with 3 seconds left.Yet after Cook's first two late free throws, Ohio State had a chance to make it a one-possession game again, but Scott dribbled off his foot with 20 seconds left.This old building was rocking at levels usually reserved for the annual visit from North Carolina — although the Buckeyes certainly did their best to hush the place early.Duke trudged through a decidedly un-Duke-like opening half in which the Blue Devils went 10 minutes between field goals, missed 13 of their final 16 shots, didn't get their first offensive rebound until there were nearly 4 minutes left and were fortunate to only be down 31-23 at halftime.The Buckeyes generated plenty of open looks by whipping the ball around the perimeter, and when they missed, they gave themselves plenty of second chances. Williams' free throw with 1:13 left put Ohio State up 31-21 — Duke's first double-digit deficit at home this season. Duke erased its rare 10-point deficit early in the second half with an 11-4 run.
Copyright by STATS LLC and The Associated Press

ESPN.com