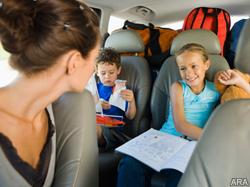 Whether heading to a theme park, campground or flying to faraway places, a family vacation provides lasting memories for both parents and children to cherish forever. From making reservations to packing and activities, there are many elements that go into planning a vacation the whole family will enjoy. Here are a few suggestions to make for a fun trip and get the whole family involved:
* Allow all family members to brainstorm what they would like to do during their vacation. While it may not be possible to visit every destination suggested, there may be at least one activity for each family member during your trip. This way everyone will have something to look forward to as they head to the selected activity.
* Pack travel-friendly snacks that will please picky eaters and keep everyone full and energized. Fruits like bananas and apples, vegetables like carrots and celery and crackers are always a good choice for travel snacks. To add flavor and make snack time more fun, try a dip or spread that's easy to pack and use, like Jif(R) To Go(TM) Peanut Butter, which has the same peanutty taste as Jif in a convenient cup. Keeping these snacks in the car or hotel room makes it easy to pack it, dip it and go with your favorite foods.
* Let children pick out games they would like to bring to help pass time in the car or at the airport. Travel-related games like car bingo or I-spy can be a great way to make riding in the car more entertaining for children.
* Don't forget the sunscreen. No matter where the destination may be, it's important to keep your family safe from the sun's rays year round. Look for easy to apply products that you can conveniently tote in your car, purse or luggage.
Each parent has his or her own methods for keeping their children happy during family vacations. Visit www.jif.com or find Jif on Facebook for more snack recipes or to exchange tips with other parents.