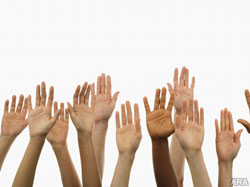 November is American Diabetes Month, a time to communicate the seriousness of diabetes and the importance of diabetes prevention and management.
Nearly 26 million children and adults have diabetes in the United States; an additional 79 million Americans are at high risk for developing type 2 diabetes. Diabetes is an epidemic; in fact, recent estimates project that as many as one in three American adults will have diabetes in 2050 unless we take steps to Stop Diabetes.
This November, the American Diabetes Association is encouraging people to take action and raise their hand to participate in the Association's Stop Diabetes movement. One person raising her hand is Sara Dorris. Her daughter, Molly, was diagnosed with type 1 diabetes nearly two years ago. Shortly after her daughter's diagnosis, Dorris learned about the Association's Camp Rainbow in Pinehurst, Texas. Diabetes Camp, a week-long camp where children can meet and learn from other kids and adult counselors with diabetes, was a ray of sunshine for the Dorris family during a dark time.
"Diabetes Camp is one of the many ways we can raise our hands to Stop Diabetes. It's important this November to create awareness by joining together to end this devastating disease," says Dorris.
Raise your hand to Stop Diabetes and take the pledge during American Diabetes Month at facebook.com/AmericanDiabetesAssociation. Find out other ways you can get involved during the month by:
* Visiting stopdiabetes.com
* Calling (800) DIABETES
* Texting JOIN to 69866 (standard message and data rates apply)
* Following the American Diabetes Association on Twitter (@AmDiabetesAssn) to receive updates all month long
The American Diabetes Association estimates that the total national cost of diagnosed diabetes in the United States is $ 174 billion. Further published studies suggest that when additional costs for gestational diabetes, prediabetes and undiagnosed diabetes are included, the total diabetes-related costs in the U.S. could exceed $ 218 billion.