Updated: February 16, 2013, 11:48 PM ET
ESPN.com news services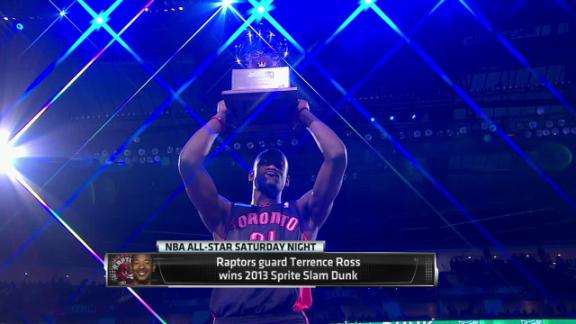 Terrence Ross Wins Dunk Contest
HOUSTON — Toronto rookie Terrence Ross beat defending champion Jeremy Evans to win the slam-dunk contest during All-Star Saturday night.
The 6-foot-6 Ross jumped over a ball boy, whipped the ball between his legs and threw down a one-handed slam to clinch the victory. Earlier, Ross donned a Vince Carter jersey, took a lob from high-school teammate Terrence Jones off the edge of the backboard, spun in the air, and then slammed home another one-hander.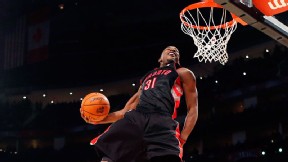 Brett Davis/USA TODAY SportsTerrence Ross threw down a one-handed slam to beat defending champ Jeremy Evans and earn top honors in the Slam Dunk contest.
Evans jumped over a painted portrait of himself and hurdled Dallas Mavericks forward Dahntay Jones for a dunk in his final round.
Ross earned 58 percent of the fan vote in the championship round. The first round was judged by former Houston Rockets Hakeem Olajuwon, Clyde Drexler, Dikembe Mutombo, Rudy Tomjanovich and Yao Ming.
Kenneth Faried, James White, 2007 dunk champion Gerald Green and Eric Bledsoe also were in the field, while Kevin Durant, Kobe Bryant, Chris Paul and Dwyane Wade were among the All-Stars taking in the show.
Green started if off by taking a lob from Indiana teammate Lance Stephenson off the side of the backboard and soaring in for a reverse slam. White played off his "Flight White" nickname when he split two columns of cheerleaders dressed as flight attendants for a powerful two-handed dunk.
Hardly outdone, Ross earned a perfect score on his first dunk, whipping the ball around his waist before smacking down a one-hander.
Evans, meanwhile, used former Jazz giant Mark Eaton as a prop on his dazzling first attempt. The 7-foot-4 Eaton held the ball above his head as he sat on a box and Evans swiped the ball and soared over his head.
Hall of Famers Bill Russell and Julius Erving, singer Alicia Keys, rapper Drake, director Spike Lee and comedian Chris Tucker were among those sitting courtside. Keys is performing at halftime of Sunday's All-Star Game.
Three-point contest
Cleveland point guard Kyrie Irving beat San Antonio's Matt Bonner to win the 3-point contest.
Irving, who will play in his first All-Star Game on Sunday, started 7 for 7 in the final round and finished with 23 points — two shy of the record shared by Craig Hodges and Jason Kapono. Bonner finished with 20 points in the final round.
Players had one minute to take 25 3-point shots from five positions around the arc. Bonner had the highest score of the six players in the first round (19). Irving, who also played in Friday night's Rising Stars Challenge, had 18 points in the first round.
Shooting Stars
The trio of Miami's Chris Bosh, WNBA star Swin Cash and Hall of Famer Dominique Wilkins won the Shooting Stars competition that kicked off the night's festivities.
Bosh's group beat the team of Oklahoma City guard Russell Westbrook, Maya Moore of the WNBA and former Houston Rocket Robert Horry.
The teams had two minutes to make shots from six locations on the floor, including one from half court.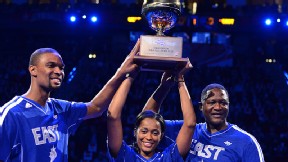 Garrett Ellwood/NBAE/Getty ImagesChris Bosh, Swin Cash and Dominique Wilkins were able to make their time of 1 minute, 29 seconds stand up to win the Shooting Stars competition.
Wilkins sank a half-court shot for a team time of 1 minute, 29 seconds. Westbrook rimmed out several half-court tries and time ran out before he and his teammates could make one.
The NBA tweaked the scoring format for this year's All-Star skills exhibitions, with teams representing the East and West competing for charities.
Skills Competition
In the Skills competition, Portland rookie Damian Lillard beat Philadelphia guard Jrue Holiday in the final round to win.
The competition involves players navigating a dribbling circuit, taking a 3-point shot, hitting targets with passes and driving for a layup. Lillard swished his first 3-point attempt in his winning run and finished the obstacle course in 29.8 seconds. Holiday's time was 35.6 seconds.
Houston point guard Jeremy Lin and defending champion Tony Parker also were in the field, but didn't come close to qualifying for the championship round.
Information from The Associated Press was used in this report.

ESPN.com