RecruitingNation: Nkemdiche on Ole Miss pick
RecruitingNation: Nkemdiche on Ole Miss pick
NEXT VIDEO
LOGANVILLE, Ga. — Ole Miss coach Hugh Freeze understands why college football fans across the country might have their suspicions about how the Rebels landed a top-five recruiting class on Wednesday.
The Rebels haven't won an SEC championship since 1963, have never won the SEC West outright and lost 16 SEC games in a row before beating Auburn 41-20 last season. As a result, Ole Miss has rarely gone head-to-head with the likes of Alabama, Florida, Georgia and LSU for top high school recruits.
[+] Enlarge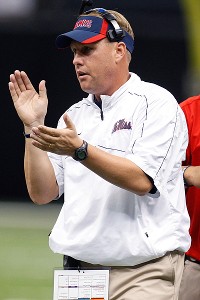 AP Photo/Bill HaberHugh Freeze reeled in the nation's No. 5 recruiting class this season.
On Wednesday, though, Ole Miss went head-to-head with those SEC heavyweights and many more top programs around the country to sign what is undoubtedly the best recruiting class in school history.
But if you think the Rebels cheated or cut corners to sign a class that includes the country's No. 1 overall player, No. 1 wide receiver, Nos. 1 and 3 offensive tackles and No. 2 safety, according to ESPN RecruitingNation, Freeze wants to know the specific allegations.
And the Rebels' second-year coach is dead serious.
"I want to know if there's something going on," Freeze said. "There's too much at stake for our program, our coaches and our families. I know the way we're doing it, and we're doing it the right way. If somebody has got something, they need to come on with it. It gets frustrating to get bombarded with it constantly. People take it way too far, and it's not fair to our players and their families to have to read it. It's one thing to suspect something and it's another thing to start naming names. I was really shocked by the amount of it and crudeness of it."
The Rebels' haul on Wednesday was stunning, although not entirely unexpected. Ole Miss started the day by signing defensive end Robert Nkemdiche of Loganville (Ga.) Grayson High School, the No. 1 overall recruit in the ESPN 150. Then the ball really started rolling, as the Rebels received signed national letters of intent from No. 1 offensive tackle Laremy Tunsil (Lake City, Fla./Columbia), No. 1 receiver Laquon Treadwell (Crete, Ill./Crete-Monee), No. 3 offensive tackle Austin Golson (Prattville, Ala.) and No. 2 safety Antonio Conner (Batesville, Miss./South Panola).
"Obviously, we wouldn't be sitting here getting all of the accolades, attention and criticism if we didn't have the high-end kids," Freeze said. "I'm not sitting here saying we're going to have a top-10 class every year. There were some unique circumstances. It was a perfect storm."
"

There were some unique circumstances. It was a perfect storm.

" — Ole Miss coach Hugh Freeze on his recruiting class
Nkemdiche, whom college football recruiters have compared to a young Reggie White because of his explosive pass-rushing skills, was the pied piper for the Rebels' unprecedented recruiting efforts. Once Nkemdiche decided that Ole Miss was a viable option for him — he ended up choosing the Rebels over Alabama, Clemson and LSU — other top players were more willing to consider joining him in Oxford, Miss.
Former Ole Miss coach Houston Nutt deserves some of the credit. Two years ago, Nutt offered a scholarship to Denzel Nkemdiche, Robert's older brother and a lightly recruited prospect at Grayson High School. As a redshirt freshman linebacker this past season, Denzel led the Rebels with 82 tackles.
"We were told from day one if we created some excitement and wins, we'd have a chance with Robert," Freeze said. "We ended the season with some momentum and he started to become interested."
Nkemdiche committed to play at Clemson in June, but then his mother said she wasn't happy with his decision. Beverly Nkemdiche, who lives in Africa most of the year, wanted Robert to play with his older brother.
"I think it came down to going to school with his brother," Grayson High coach Mickey Conn said. "That was the bottom line: He just wanted to play football with his brother. There were a lot of other schools he liked, but at the end it came down to being with Denzel and keeping family peace."
Beverly realized pretty quickly that Ole Miss wouldn't be the most popular choice for her son, at least not with outsiders.
"I heard all of that," she said. "I know they haven't won an SEC championship since 1963. People told me all of that. They told me Ole Miss was a racist place and they hated black people. It's not a black and white issue for me. My son was there for a whole year and he didn't die. They didn't kill him."
Beverly said Freeze won her over in the end, for the way he developed Denzel's potential more than anything else.
"They didn't offer us anything," Beverly said. "All of the other schools who recruited my son looked at him as a machine. But Ole Miss went beyond that; they showed him the softer side of people and looked at him as a human being. I don't want my son to be seen as a piece of metal, a weapon they can use to win games. I want him to be loved and fall into a family, which is what they've done with Denzel."
It didn't take Robert long to reach the same conclusion, even if it wasn't the most popular decision.
"It's the people that make a program and university," Robert said. "It's history in the making. We're doing special things right now. What kind of difference would I have made at Alabama or LSU? I'm trying to do something different and trying to make history."
The Rebels had been considered the odds-on favorite to land Nkemdiche for the past several months, but their ability to flip Tunsil and Golson in the last couple of weeks was really surprising. Tunsil was considered a lock for Georgia for the past several weeks, and Golson was committed to Florida State for nearly two years.
Tunsil, who had never visited the Ole Miss campus until an official visit two weeks ago, also considered defending BCS national champion Alabama and Florida. Freeze said Ole Miss defensive line coach Chris Kiffin — USC coach Lane Kiffin's younger brother — did an outstanding job recruiting Tunsil and won over the player's mother. But the Twitter world went abuzz after Tunsil's sudden about-face last week, with some accusing the Rebels of offering his girlfriend an academic scholarship and paying off his family.
"It's not true whatsoever," Freeze said. "It comes from the same place where most of the other stuff comes from — garbage bins."
But sources familiar with Tunsil's recruitment did confirm to ESPN.com that the Rebels have offered a scholarship to his younger brother, Alex Weber, a lightly regarded junior receiver at Columbia High in Lake City, Fla. The Rebels offering Weber a scholarship isn't a violation of NCAA rules. He wasn't included among a list of 232 wide receiver prospects in Florida for the 2014 recruiting cycle.
"

What kind of difference would I have made at Alabama or LSU? I'm trying to do something different and trying to make history.

" — Robert Nkemdiche
The fact Ole Miss was able to sign Treadwell, the No. 1 player in Illinois, was perhaps the biggest surprise. But the Rebels last year signed defensive back Anthony Standifer, who was Treadwell's best friend at Crete-Monee High, according to Freeze.
"I understand why people are speculating or raising an eyebrow," Freeze said. "But we had Robert's brother here, and the mom said she wanted him here. We had Treadwell's best friend here, and South Panola [Conner's high school] is right down the road. Golson fits in here; he's a country boy and loves the place. There were a lot of factors involved."
Maybe it was a perfect storm.
"If people know the No. 1 recruit is coming to your school, it creates some buzz for you and our coaches capitalized on it," Freeze said. "They did a good job of executing our 12-month plan. We did it with hard work, a little luck and God's goodness to us."
But Freeze also knows his top-five ranking in recruiting won't mean anything this coming season.
"One of the first things we have to start doing immediately is tempering expectations," Freeze said. "I know that one good recruiting class doesn't mean that you've arrived, especially not in this league."
Good luck with that.

ESPN.com