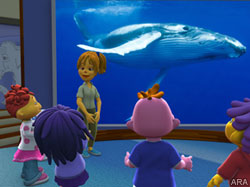 You may have already heard this, but "geek" and "nerd" are no longer disparaging monikers for kids. As technology continues to reach into the lives of children, the kids who are embracing the science behind what makes the world work could play crucial roles as scientists in the future.



While kids are certainly influencing each other to get excited about science and technology, it's also important for parents to introduce their kids to the possibilities of careers in science at a young age. Few fields offer the opportunities to think explore and make new discoveries as those in science, engineering and technology which are among the fastest growing occupations according to the U.S. Bureau of Labor Statistics.



One way to get your young child excited about science is to turn them on to programming that helps them explore the exciting careers of real-world scientists. For example, "Sid the Science Kid" on PBS KIDS aims to teach kids and parents that anyone can become a scientist.



New "Sid" episodes airing as part of "Technology and Engineering week" December 5-9 on PBS KIDS will help viewers explore the concepts of engineering, flight, research and computers. The show also will feature a new character Dr. Rosalinda Cordova, guest voiced by Emmy award-winning actress America Ferrera, who is a marine biologist and the mother of Sid's friend, Gabriela, who helps him answer his questions pertaining to science.



If you're looking for ways to inspire your children, here are seven interesting careers to be featured on "Sid" that you can help your children learn more about:



* Zoologist or marine biologist: Kids already love animals, so you don't have to convince them of the benefits of a job that revolves around them. By learning more about biological sciences, your child could spend their days helping animals.



* Robotics: Many middle schools and high schools are implementing robotics programs as a way to encourage and educate students interested in science. Let your child know that these opportunities exist and that by learning about physics and computer programming, they too can someday learn how to build robots.



* Inventor: By helping your child foster his or her imagination while it's running wild, you may be providing the inspiration for them to come up with the next big idea.



* Computer engineer: Have you noticed that your son or daughter is able to navigate your smartphone more easily than you can? If you have a child who's a computer whiz, there's perhaps no better career that will offer more opportunity in the future than one in computer engineering.



* Astronomer: If your child is a stargazer, let them know with the right training, they could land in a career where it's their job to research far-off universes.



* Aerospace engineer: Most kids are fascinated by flight. If your child knows that scientists are the ones who make it possible, they might be interested in studying to become an airplane designer or satellite engineer.



* Civil engineering: Is your child fascinated by trains and tall buildings? The people who are responsible for building and designing our transportation systems and the places where we live are scientists, too.



For more information on "Sid the Science Kid" and other educational materials related to science, visit www.PBSKIDS.org/sid. "Sid the Science Kid" is made possible by The Boeing Company and the Corporation for Public Broadcasting.