Updated: March 21, 2012, 8:40 PM ET
ESPN.com news services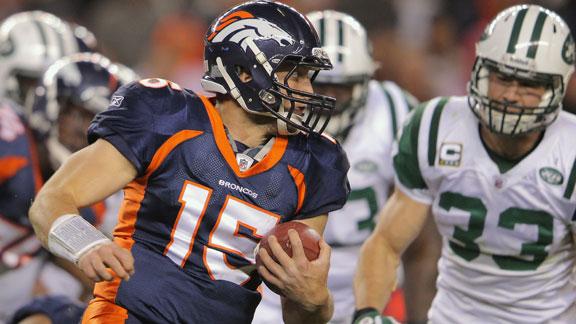 Jets And Tebow A Good Fit?
NEXT VIDEO
Jacksonville or New York? Tim Tebow's future is up to him.
After a trade that would have sent the Broncos quarterback to the New York Jets hit a contract-related snag Wednesday afternoon, a league source tells ESPN NFL Insider Adam Schefter that Tebow can choose whether Denver deals the former Heisman Trophy winner to his hometown Jaguars or to Rex Ryan's Jets.
Word spread rapidly Wednesday that the Jets had acquired Tebow from Denver for draft picks, the teams encountered a hang-up in the language in Tebow's contract that put the trade on hold, a Broncos source told ESPN NFL Insider Adam Schefter.
In Tebow's contract is a $ 6.2 million salary advance, of which $ 1.2 million already has been paid by Denver, sources told Schefter. The difference of $ 5 million is still advanced against his future salary, and that burden would shift to the Jets in a trade. The Jets, sources said, believe the Broncos should owe Tebow that money.
The trade, then, will not be finalized until the sides resolve who should pay the money to Tebow.
The teams agreed to the terms of the trade — the Jets dealt fourth-round and sixth-round selections in 2012 in exchange for Tebow and a 2012 seventh-rounder from Denver — before the Broncos asked New York to pay back a portion of bonuses and salary already paid to Tebow, sources told Schefter.
The Jaguars, a league source told Schefter, then made an additional play to get Tebow after initially trying, and failing, to land the him earlier Wednesday.
ESPN initially reported the St. Louis Rams could be a landing place for Tebow, but sources later indicated the Rams are not serious contenders.
A source told ESPN's Ed Werder that Denver was negotiating with both the Jets and Jaguars for cash payments and will complete the trade with whichever team offers the highest amount.
Tebow grew up in Jacksonville and played his college ball at the University of Florida.
The Jaguars passed on drafting Tebow when he came out of college in 2010 and then traded up to draft Blaine Gabbert last season, calling him a "franchise quarterback." Gabbert struggled, and the team blamed his problems on receivers and coaching.
Coach Jack Del Rio was fired in November, the same day the team was sold to Illinois businessman Shahid Khan. Before the Super Bowl, Khan said in a radio interview that he would have drafted Tebow and indicated he would consider bringing in Tebow if he became available.
"I share your sentiment," Khan said to a caller who said he hoped the Jaguars would consider Tebow. "When is the next time Jacksonville is gonna have an athlete like Tim Tebow?"
Tebow, drafted by Denver with the No. 25 overall pick in 2010, went on the trading block Monday when the Broncos secured free-agent quarterback Peyton Manning, who signed a five-year, $ 96 million contract.
The timing of the trade is curious for New York.
Two weeks ago, the Jets gave Sanchez a three-year, $ 40.5 million contract extension, even though he regressed in certain areas last season. They signed former Detroit Lions backup Drew Stanton last week to be their No. 2 quarterback, handing him a $ 500,000 signing bonus. They also have former Alabama star Greg McElroy.
The Jets see Tebow as a change-of-pace player with the ability to run the Wildcat offense. They've used the Wildcat in recent years, but cut back last season with the departure of Brad Smith. The new offensive coordinator is Tony Sparano, who introduced the Wildcat to the NFL as coach of the Miami Dolphins.
Hall of Fame quarterback Joe Namath, who led the Jets to their only Super Bowl title in 1969, was among those unhappy with the trade.
"I'm just sorry that I can't agree with this situation. I think it's just a publicity stunt. I can't go with it. I think it's wrong," Namath told "The Michael Kay Show" on ESPN1050 in New York. "I don't think they know what they're doing over there."
Asked if he hoped the deal would ultimately fall through, Namath said, "Absolutely."
"And I'm a Tim Tebow fan, but I'm a bigger Jet fan than I am a Tim Tebow fan," Namath said.
Information from ESPNNewYork.com's Rich Cimini and Jane McManus and The Associated Press contributed to this report.

ESPN.com