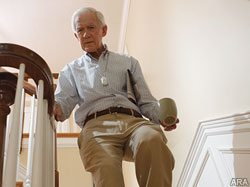 When the stairs in your house start to feel more like an obstacle course; when you worry about your loved one living alone; when you remember not to take good health for granted – it's time to think about fall prevention.



One third of adults aged 65 and up – more than 13 million people – will experience a fall this year. That's about one every 2.3 seconds. As people age and their stability decreases, household features and objects such as carpets, stairs, loose rugs and even pets create dangers that can lead to a fall. Balance disorders, dizziness and vertigo, drop attacks and other chronic conditions also increase an individual's risk of falling.



"Falls pose a serious health risk to seniors," says Mark Rutherford, senior director of marketing for Philips Lifeline. "That's why Philips Lifeline is encouraging individuals and their families to become aware of this hazard, and take basic but crucial steps to aid in prevention."



Philips Lifeline is spearheading efforts around Fall Prevention Awareness Day, an initiative that aims to help reduce the risk of falling and enable swift aid and intervention if a fall occurs.



"There are simple precautions seniors can take to reduce their risk of falling," says Dorothy Baker, a research scientist at Yale University School of Medicine. "Many older people become less active because they are afraid of falling, but it is actually inactivity that makes a person more likely to fall. Maintaining a regular exercise routine is a great preventive measure.



"It is also extremely important to assess and remedy potential in-home risks, as 55 percent of falls occur at home," Baker adds.



Some simple steps you can take to mitigate environmental dangers include:

* Improving lighting

* Removing clutter

* Securing rugs

* Installing railings and grab bars



Seniors should also consult with their primary care providers to discuss whether any medications they are taking could potentially make them more likely to fall.



If a fall does occur, rapid help is incredibly important, especially for individuals who cannot get up on their own afterward. Muscle cell breakdown starts to occur within 30 to 60 minutes of compression due to falling. Dehydration, pressure sores, hypothermia and pneumonia are other complications that may result.



"For older people who live on their own, Philips Lifeline can be instrumental in getting prompt access to help after a fall," Rutherford says. "The device connects to a 24/7 response center with the push of a single button – or with Lifeline AutoAlert, which can automatically call for help if it detects a fall – an associate assesses the situation and calls a neighbor, loved one or emergency service to come and help."



AutoAlert does not detect 100 percent of falls, however. If able, users should always push their button when they need help.



Falls can have lasting impacts, particularly when seniors are not able to get help quickly and remain prone for hours. Falls account for 25 percent of all hospital admissions and 40 percent of all nursing home admissions. Sadly, 40 percent of those admitted do not return to independent living and 25 percent die within a year.



Falls also impose significant financial burdens – the average cost of a fall injury is $ 19,440 including hospital, nursing home, emergency room and home health care, but not physician services. Fall-related health care expenses total $ 30 billion annually.



Because falls have the potential to be so physically, emotionally and financially devastating, and because prevention strategies can be so effective and easy to implement, take a moment and talk about fall prevention with a loved one today.



"It's a sensitive topic to broach," says Baker. "But it's a cause well worth getting out in front of."



For more information on Fall Prevention Awareness Day, visit www.learnnottofall.com.