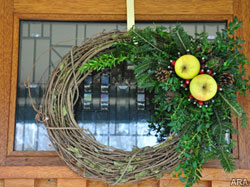 Winter is quickly approaching and the holidays are in full swing once again. Gift-giving, parties, baking goodies and being with loved ones are great fun, but can often lead to waste and excess. This year, try celebrating using a few green ideas and give yourself and Mother Earth a gift.



Nature's gifts:

Whether decorating your home or cooking up festive treats, use the bounty that nature has already provided.



Potted plants are the perfect present, and make wonderful centerpieces. A small pot of live herbs can add a fresh taste to any meal. Indoor potted plants can help clean the air, too.



Things like pinecones, nuts, fresh fruit, pine boughs and leaves beautifully supplement a gift basket, holiday wreath, or floral arrangement. This added personal touch will not only stand out to the recipient, but can also be eaten or composted after the holidays, extending its use and leaving very little room for waste.



Recycle and reuse:

We have all experienced the sight of the overstuffed trash cans lining the curb following a party or holiday celebration. Wrapping paper, boxes, disposable cups and plates along with ribbons and bows overflow garbage bins at the end of each year. This year, cut down on that waste by simply reusing and recycling.



If you receive a gift in a lovely gift bag, box or even wrapping paper, simply flatten it out, fold it up and store it away for reuse next year. Think of the bags, boxes, papers and bows in new ways. Gift bags make festive lunch bags and are a fun way for kids to carry a special toy when going to a friend's house. Boxes can be used for storing sweaters, scarves, gloves and hats once the seasons change.



Wrapping paper can be used to protect breakables when moving or storing. Festive paper can also be cut up or torn into strips for decoupage or paper mache. These papers will then be given a new life in future holiday celebrations. Even a simple shoe box with a decoupage of colorful wrapping paper becomes a work of art that can be used next year as a gift box.



Ribbons and bows are always fun for reuse. Tie them around pony tails for beautiful hair ribbons or use them to bind together flowers in a vase. Wrap ribbons around kindling near the fireplace for a festive touch to the fireside.



Compost:

Another way to keep the trash can from overflowing this season is to compost whatever you can. Fresh flower arrangements, dying poinsettias, dried up greenery and wreaths, and even that Christmas tree can all be composted. In addition, vegetable peels, coffee grounds, tea bags and some wrapping paper can be thrown into a compost pile to return to nature.



If you do not already have a compost bin or pile, one can easily be purchased or made with minimal effort. Occupying just a small corner of the yard, compost is an easy way to create organic material for use in the garden. Now, the celebration need not end in January – but can continue to grow into the next year.



Recycling, reusing, composting and celebrating the gift of nature are great ways to stay green this holiday season, and reduce the amount of waste while increasing the amount of fun you experience during this festive time of year.