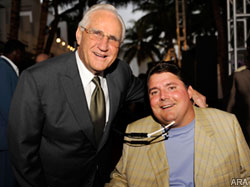 Every 48 minutes someone in the U.S. is paralyzed from a spinal cord injury. Millions worldwide are living with paralysis as a result – and living with the knowledge that there is currently no cure for their injuries.
In an effort to raise awareness about the critical need for better treatments and preventive measures, September has been designated National Spinal Cord Injury Awareness Month by the U.S. Senate, the result of a resolution co-sponsored by Sens. Marco Rubio (R-Fla.) and Bill Nelson (D-Fla.). To bolster the resolution's message, The Buoniconti Fund to Cure Paralysis, the fundraising arm of The Miami Project to Cure Paralysis, launched an awareness campaign Sept. 1 that will last the entire month.
"The inspiring work of The Miami Project to Cure Paralysis has touched the lives of millions of young athletes, accident victims and troops in harm's way and I commend them for it," said Rubio. "By designating September as National Spinal Cord Injury Awareness Month, I hope we can further educate the public about how crippling accidents can be prevented while promoting the important work being done to help victims walk again."
The Buoniconti Fund's central message for National Spinal Cord Injury Awareness Month asks everyone to "Stand up for those who can't" and hopes to create a national conversation about the devastation paralysis causes. The campaign also hopes to educate the public about prevention and research efforts underway at The Miami Project to one day soon change the diagnosis for those not yet affected by paralysis, and for the millions currently living with spinal cord injuries.
The social media component of the campaign encourages everyone to "Stand Up for Those Who Can't" by changing their Facebook and Twitter picture to The Buoniconti Fund's logo, available on www.thebuonicontifund.com. Besides changing their picture, The Buoniconti Fund is also asking people to download a video link to their Facebook wall, also available at the website, email friends and family about why finding a cure for paralysis is so important, and make a donation to help further the goals of The Miami Project.
Twenty-eight percent of spinal cord injuries are caused by accidents working; 24 percent by motor vehicle, and 16 percent by sports/recreation. "Paralysis does not discriminate. People need to realize that paralysis can happen to anyone at any time," said Nick Buoniconti. "But the reality of today's statistics can't be disputed. Every 48 minutes another person in the U.S. will become paralyzed. That is simply unacceptable. Each of us must do what we can to make a difference."
Annually, The Buoniconti Fund hosts the Great Sports Legends Dinner in September, to benefit The Miami Project, which is why this month was chosen as National Spinal Cord Injury Awareness Month. This year, the dinner is Monday, Sept. 26, at the Waldorf-Astoria Hotel in New York City and will honor sports legends and honorees such as Jerry Rice, Don Shula and many more. For additional information on this year's Great Sports Legends Dinner, please visit www.thebuonicontifund.com/gsld or call 305-243-4656.
The Buoniconti Fund is the fundraising arm of The Miami Project to Cure Paralysis, and was created in 1985 by NFL Hall of Fame linebacker Nick Buoniconti after his son Marc was paralyzed while playing football. Today, The Miami Project, based at the University of Miami's Miller School of Medicine, is one of the world's leading spinal cord injury research centers dedicated to finding a cure. The Miami Project's international staff includes more than 250 scientists, clinicians, therapists and support staff seeking treatments for traumatic brain and spinal cord injuries. The Miami Project is also currently seeking U.S. Food & Drug Administration approval to begin the first human clinical trials attempting to repair spinal cord injuries with a patient's own Schwann cells.