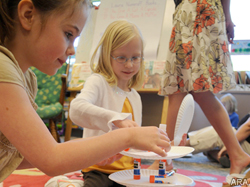 With back-to-school season back again, now is a great time to instill a simple message your child will benefit from in the years to come: green is good.
By implementing a few recycling tactics across your home and encouraging the same behaviors in the classroom, you can turn your student into a green "hero" and help her embrace earth-friendly habits. According to the Environmental Protection Agency, only 30 percent of consumer waste is recycled each year. This presents a great opportunity for children to use their green thumbs and take part in saving the planet.
Here are a few ways to get your children started:
1. Give paper some TLC

Paper accounts for as much as 50 percent of landfill space. Rather than add to this waste, implement a designated paper recycling bin that can be easily accessed where you tend to use paper most in the home or in the classroom. Or, better still, put your paper products to good use by challenging your kids or students to create paper craft projects. Then encourage them to recycle any scraps when finished.
2. Get crafty

In addition to paper products, all kinds of waste can be "upcycled" into useful or decorative items. For example, a painted egg carton can make a unique storage box for small objects like beads or paper clips and tissue paper glued to a clean spaghetti sauce jar makes for an attractive vase. The possibilities are endless, so you'll not only be saving trash from a landfill, you'll be inspiring creativity.
3. Better together

Recycling is often more effective when multiple people take part. Teachers can set a goal for their classroom, school or even individual students to recycle a specified amount of paper, plastics, aluminum and glass before the end of the school year. Parents can support this effort by encouraging children to not only recycle at home, but to also take recyclable materials into the classroom to participate in the school's project.
4. Adopt a program

Encouraging your children to take part in a recycling-focused program can develop valuable habits while encouraging some fun. One such program is the Elmer's Glue Crew Recycling Program, a classroom resource designed to teach children how they can help save the planet, gives recycling-related lesson plans as well as fun and engaging projects for their students. Throughout the year, the classroom or school collects empty glue bottles and glue sticks to be recycled through TerraCycle. For additional information on the Elmer's program, visit ElmersGlueCrew.com and Facebook.com/GlueCrew.