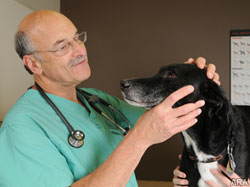 When Michele Sebesto, of Staten Island, N.Y., adopted JC 10 years ago, she said the chihuahua was an invaluable source of comfort. As a New Yorker, she'd just gone through the 9/11 attacks, and the two developed a special bond. Unfortunately, JC had some minor but persistent health problems.



About twice a year, JC would get a urinary tract infection. During an annual preventive care appointment when JC was about 4, Sebesto's veterinarian took an X-ray and made a startling discovery.



"When she showed me the X-ray, I couldn't believe it. The kidney stone was the size of a grape, which is pretty big for a chihuahua," Sebesto says. "My veterinarian did surgery to remove it, and I was pleasantly surprised at how fast JC bounced back."



After the surgery, JC was put on a special diet, and the dog, now 10, sees the veterinarian for regular checkups and has been healthy and free of urinary tract infections since the surgery.



Unfortunately, Sebesto is part of a shrinking population in the United States. Recent studies show that while the number of pets in America is increasing, fewer pet owners are bringing their pets in for regular checkups, and this could be causing a rise in preventable diseases.



"Despite the ever-increasing emotional bond we have with our pets, research shows pets are getting less preventive health care," says Dr. Rene A. Carlson, president of the American Veterinary Medical Association (AVMA). "At the same time, illnesses that are totally preventable, such as dental infections, ear infections, diabetes, intestinal worms and heartworms, are increasing."



Troubling trends

AVMA research shows that veterinary visits for cats and dogs have been on the decline for at least a decade. The average number of annual veterinary visits dropped between 2001 and 2006 from two visits a year for dogs to 1.5 and from one visit per year for cats to 0.7 visits, according to the AVMA's 2007 U.S. Pet Ownership and Demographics Sourcebook.



Perhaps it shouldn't be a surprise that, while veterinary care appointments have been declining, incidents of pet diseases have increased. In particular, totally preventable diseases are on the increase. The Banfield Pet Hospital's State of Pet Health 2011 Report found that since 2006 flea infestations were up in dogs by 16 percent and 12 percent in cats, diabetes increased 32 percent in dogs and 16 percent in cats, and hookworm infections in dogs were up 30 percent and 3.5 percent in cats.



An ounce of prevention

The vast majority of pet owners care deeply about their pet's health, says Carlson. In fact 59 percent of dog owners and 53 percent of cat owners say they would, in fact, take their pets to the veterinarian more often if they thought it would help their pet live longer, according to the Veterinary Care Usage Study.



"This study shows us that pet owners really do care about their pet's health and well-being, but they may not correlate the importance of regular checkups with maintaining health," Carlson says. "Pet owners shouldn't wait until a pet is sick to take it to the veterinarian, because pets, particularly cats, will often hide the symptoms of illness when they are sick. So your pet may be sick or in a great deal of pain and it would be very difficult for you to know."



Pets – excluding tortoises and some exotic birds – have much shorter lifespans than humans, and, as a result, diseases can develop more quickly. An annual checkup for dogs and cats is like a person going to see their doctor once every seven years. What's more, pets with existing health problems, like obesity, are at an even greater risk of developing a chronic condition.



"It is estimated that 40 percent of dogs and cats are obese. That's 54 million dogs and cats. Obesity can result in life-threatening illnesses such as diabetes, heart disease, and arthritis," Dr. Carlson says. With so much information now available on the Internet, it is estimated that about 40 percent of pet owners turn to the Internet before their veterinarian for pet health care information. But are they getting the right information from credible sources?



"While some websites may provide valuable background information on diseases, many do not. And relying on what may be misinformation may delay the inevitable visit to the veterinarian. By the time the owner finally gives up on what might likely be incorrect information from an untrained source or advice from other pet owners in a chat room, the pet may be twice as sick or the cure may be many times more difficult or costly. Your pet's veterinarian is the best source for advice on how you can keep your pets healthy, happy and with your family for a lifetime," Carlson says.



Sebesto agrees.



"I think that when you own an animal, you have to make a commitment to provide them with veterinary care," Sebesto says. "I take my dog into the veterinarian every year."



For more information, visit www.avma.org/ounceofprevention.