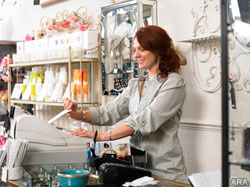 The holiday shopping season is the time of the year that service and retail businesses big and small look forward to all year. In fact, National Retail Federation research shows that the last two months of the year can account for between 25 and 40 percent of all annual sales. For small businesses especially, the holiday season is often a crucial make-or-break opportunity to earn the revenue required to sustain the business the following year.



Fail to plan, plan to fail

Smart planning is essential to keeping the registers ringing during the holidays. For starters, a spike in customer traffic often means needing to hire seasonal help. While that's a good problem to have, managing scheduling, payroll and other concerns for an expanded group of employees can put additional strain on already stretched resources. According to small business expert Steve Strauss, identifying and implementing tools they can trust to manage operational demands effectively can help small business owners focus on what's most important – serving customers and making sales – during the holiday season and beyond.



"Running a small business is a complicated juggling act," says Strauss. "To keep all the balls in the air, small businesses owners should take advantage of the many easy and affordable resources available to them today. For example, Bank of America small business customers have access to Intuit Full Service Payroll. This payroll support program can relieve a major stress on small business owners by taking on the responsibility of staff paychecks and payroll taxes."



With peace of mind that workers will be paid error-free and on-time, here are some ideas to ensure that your small business will stay busy:



* Make sure you have an online presence – Review your website, especially if you use it to make direct sales, to confirm that your interface, search and payments functionality is fast and user-friendly. You may also want to consider optimizing your content and key words to appear more frequently in Web searches.



* Use your size to your advantage – Your competitors may have larger advertising budgets, but they don't have the flexibility to personalize their promotions to the community. Tap into what's unique to your city or neighborhood to design special discounts and use your network of relationships to enhance visibility and loyalty by hosting demonstrations/tastings at local events or donating items to charity auctions.



* Shout it from the digital rooftops – Twitter and Facebook are easy, fast and free tools to announce sales, showcase products with videos, photos and testimonials, and run contests to keep interest and excitement going throughout the holiday season. For example, you can feature surprise discounts every day for a week or encourage customers to shop with you by giving a certain amount of proceeds to charity from any purchase made with a special Twitter or Facebook code.



For more information on issues that matter to small business owners, visit www.bankofamerica.com/smallbusiness and smallbusinessonlinecommunity.bankofamerica.com.