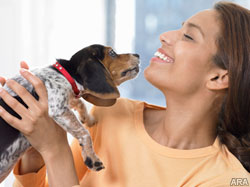 Congratulations! You're a pet owner. Bringing a new pet home is an exciting experience but requires some preparation. That adorable ball of energy covered in fur will interact with just about every inch of living space and your life is about to be enriched in ways you've never dreamed possible.



Prepping your house, wardrobe and routines ahead of time can help ease the transition for both you and your new family member. Here are some tips to welcome a new pet into your household and ensure a smooth transition for everyone:



Pet-proof your home. Just as you would baby-proof a house for an infant, make sure to pet-proof your house for your furry friend. Rearrange your living space by placing anything breakable at a higher level. Baby gates work well to prevent dogs from entering areas of the house that aren't safe for them, or places you don't want them to be. Remember, cats can jump extreme distances, so clean off the top of your cabinets and refrigerator in case your kitty decides those are his or her favorite places to play "hide and pounce."



Manage pet hair on your clothing. There are many joys of owning a pet but many would agree, if they have a "pet peeve" about their four-legged friends, it's the shedding. A surprising 57 percent of women are hesitant to wear black clothing around cats and dogs because of the lint and pet hair it attracts, according to a Procter & Gamble study conducted in August. However, you don't need to change your wardrobe just to snuggle with your new pet. Use the Bounce Dryer Bar or Bounce dryer sheets when doing the laundry to help repel pet hair from your black clothing. Visit the Bounce Facebook page at www.facebook.com/bounce for more information.



Prepare for pet odor. A dog or cat will introduce new smells to your house. You can help contain these pet smells with frequent vacuuming, disinfecting toys on a regular basis, and clumping and deodorizing litter. Regularly bathing your dog is an important part of keeping their skin and coats clean and odor-free. Also, brushing your dog or cat's teeth can help keep his or her mouth healthy and help prevent bad breath.



Help your new pal adjust. Place a cozy bed in several rooms where your pet will be allowed, giving him or her a comfortable place to snuggle and sleep. This will help encourage your pet to stay off the furniture. Keep in mind that your pet has a highly developed sense of smell, and a brand new bed from the store could contain strange odors to him. Rubbing a blanket or old towel on your pet's bed can help make the smells of the bed more familiar and friendly.



You'll enjoy spending time with your new four-legged friend as they become a part of your family. With your home and wardrobe prepped for his or her enthusiasm and fur, you won't have to worry about much except making your pet feel welcome.