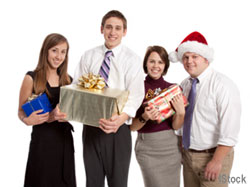 You just got your invitation to the holiday work party. Your boss will be there, your favorite colleagues – and not-so-favorite colleagues – will be there. Whether you like it or not, you should be there too. And while the holiday party is a great time to unwind with your colleagues in a more relaxed atmosphere, it's still a professional gathering, and your appearance should reflect that.
First the don'ts. If you would not wear it to work, don't wear it to the party. Is your skirt too short? Is that neckline plunging to new depths? "If you wouldn't wear it to work every day then it is not appropriate," says Julie Hengle, academic director for Fashion Merchandising and Fashion Marketing & Management at The Art Institute of Ohio – Cincinnati. "It's still work and you don't want to be remembered as the person who wore the inappropriate Santa's helper outfit."
Jessica Little, Fashion Marketing instructor at The Art Institute of Wisconsin adds, "Don't over accessorize, don't wear too much makeup or overdo it on the jewelry. Don't try to be somebody you're not just because it's a party."
What about your favorite holiday sweater? "Put it away," admonishes Hengle. "No Rudolph, no blinking lights. Your outfit should not be louder than the music."
So what should you wear? "Dress conservatively," advises Ashley Swint, Fashion Marketing & Management instructor at The Illinois Institute of Art – Tinley Park. "Pair pants with a nice blouse or try a basic dress or suit."
"Stay age appropriate," says Little. She advises you ask a sales person what the average age is of people who are buying the garment that you're considering. And remember the classic little black dress we're all supposed to have in our closets? According to Hengle, this may just be the perfect occasion to pull it out of the closet and put it on for your work party.
If you really want to jazz it up a bit, you have a few options. Hengle says if you really want to try something new, do something a little more dramatic with your makeup. Little suggests a piece of jewelry that stands out. But both caution not to overdo it.
All three fashion experts agree that less is more. Think of that party as an extension of your work day – dress and act like you would between the hours of 9 a.m. and 5 p.m.
To learn more about The Art Institutes schools visit www.artinstitutes.edu.
The Art Institutes is a system of over 45 schools across North America. Programs, credential levels, technology, and scheduling options vary by school. Several institutions included in The Art Institutes system are campuses of South University. See aiprograms.info for program duration, tuition, fees, and other costs, median debt, federal salary data, alumni success, and other important info.